Whether you're in the middle of your supply chain studies or already have your degree in hand, it's time to think about your future career in supply chain.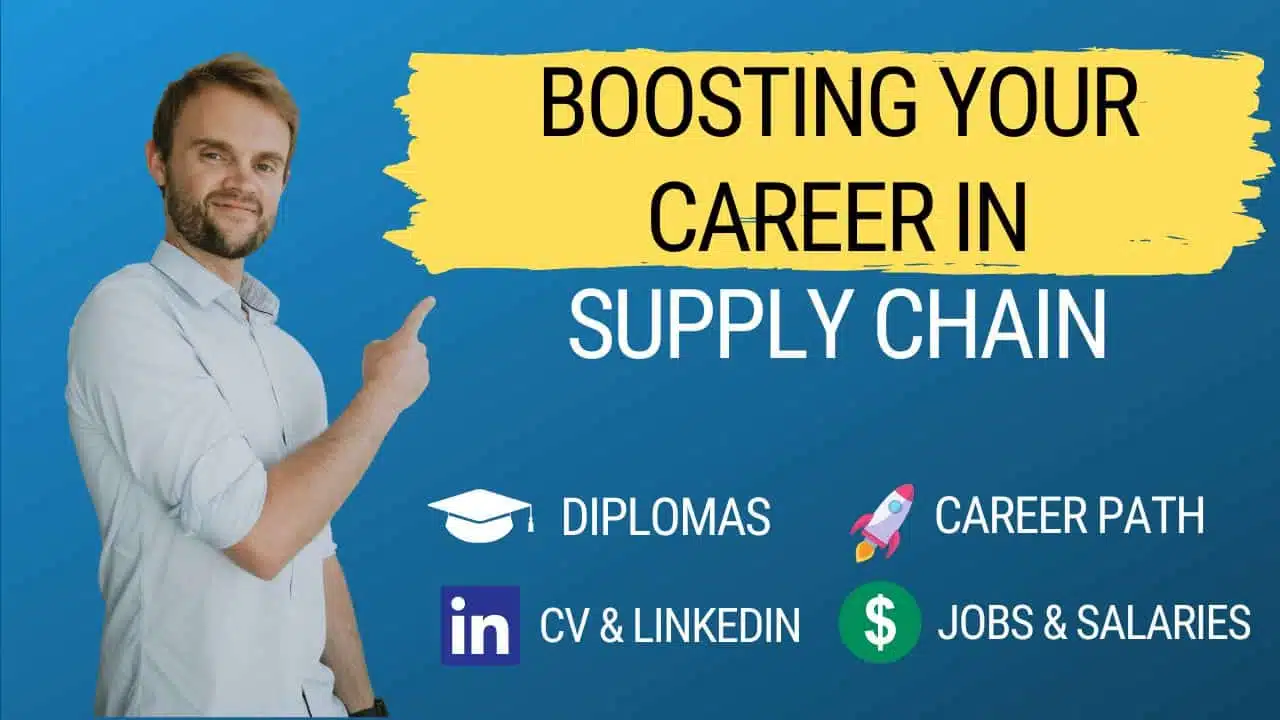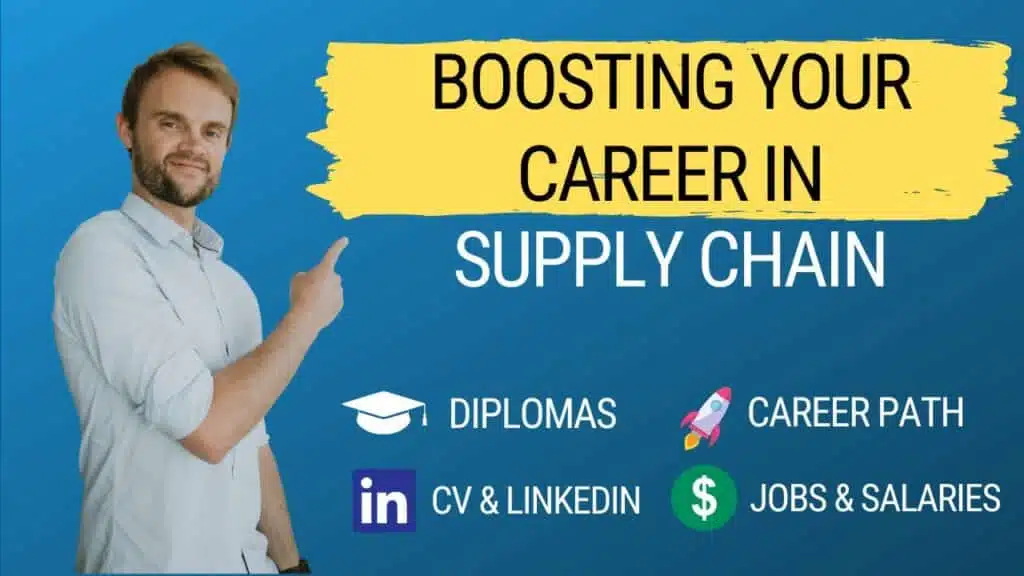 1) Career in Supply Chain: What is your priority?
What do you want to be when you grow up? You've been asked this question at least once before… At the time, the answer may not have been 'supply chain manager,' but here you are now, following that path or something similar. Now that you've chosen your field, have you taken the time to think about your priorities?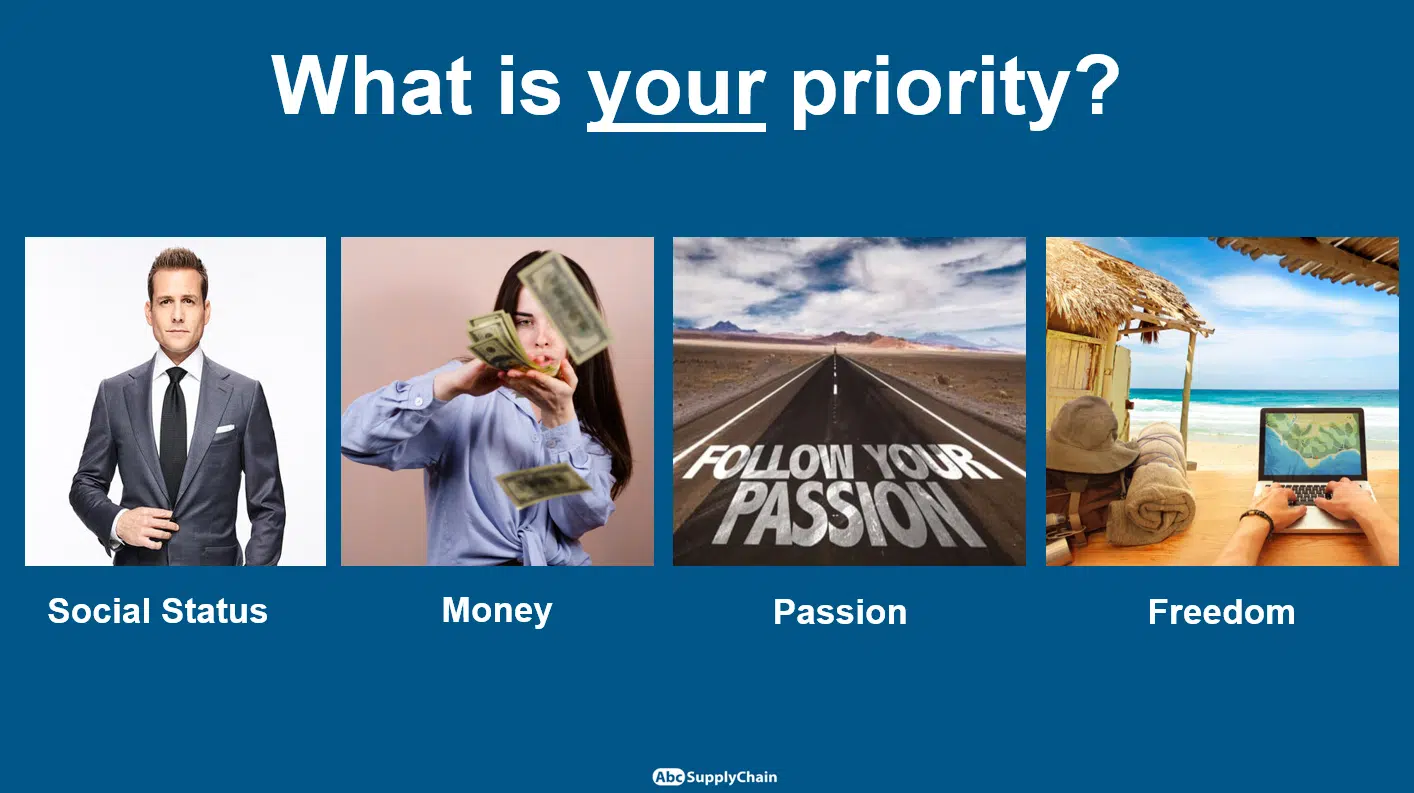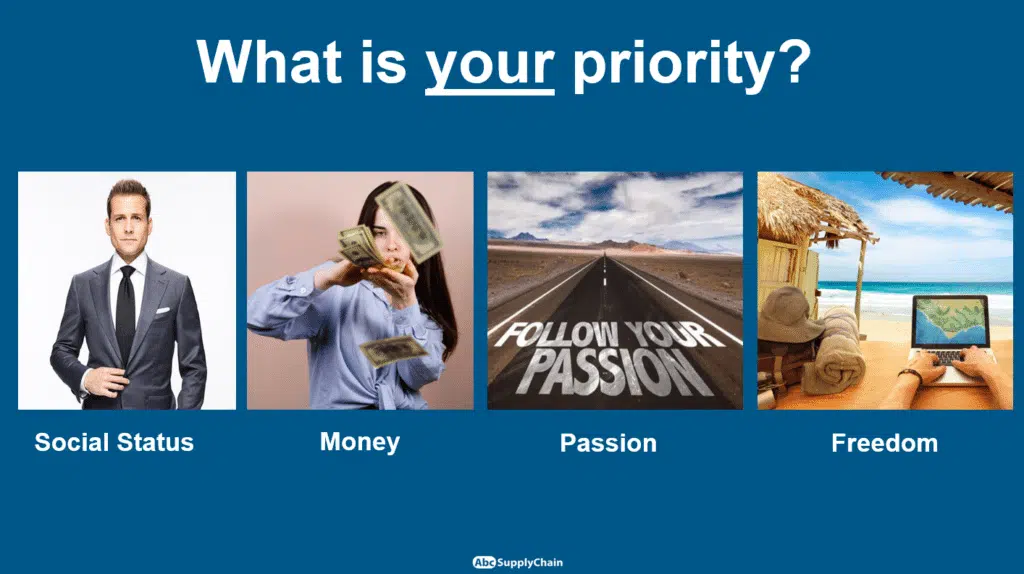 Defining the lifestyle we want to live is an integral part of our career in supply chain choices. Perhaps you want to prioritize :
Your social status: climbing the ladder, becoming a manager, director, CEO… there's no shame in saying that your social status is very important to you. If this is your primary goal, keep it in mind and work hard to achieve it 👩💼.
Money: this is an entirely legitimate motivation. Maybe your current financial situation is not what you want, and you want to change things. Wishing for a high salary can help you advance quickly in your career. As a Supply Chain student (and like any other student), your resources are probably limited right now, but that can soon change with making the right choices 💸.
Your passion: making a living from your passion… this is the number one goal for most of us, but it takes a lot of courage and hard work. The great thing about a career in Supply Chain is that it's such a broad field, there are so many opportunities available to you early in your career. Are you passionate about machines? Become an engineer. Do you have the soul of a leader? Aim for a management position. If your analytical mind is what counts, the Data Analyst job will suit you like a glove. Personally, it's education that I'm passionate about, and that led me to start the AbcSupplyChain adventure a few years ago 💪.
Your freedom: with the rise of the freelance concept and other Digital Nomads, your geographic freedom and flexible hours may be what you want most. Lucky for you, many more jobs are accessible remotely these days, and it will not stop anytime soon 👨💻.
So, what appeals to you the most? Where do you stand on this choice?
2) Becoming a Supply Chain Expert: the 7 pillars
Whatever your objective in Supply Chain, you will need 7 pillars (see How to become a Supply Chain Manager):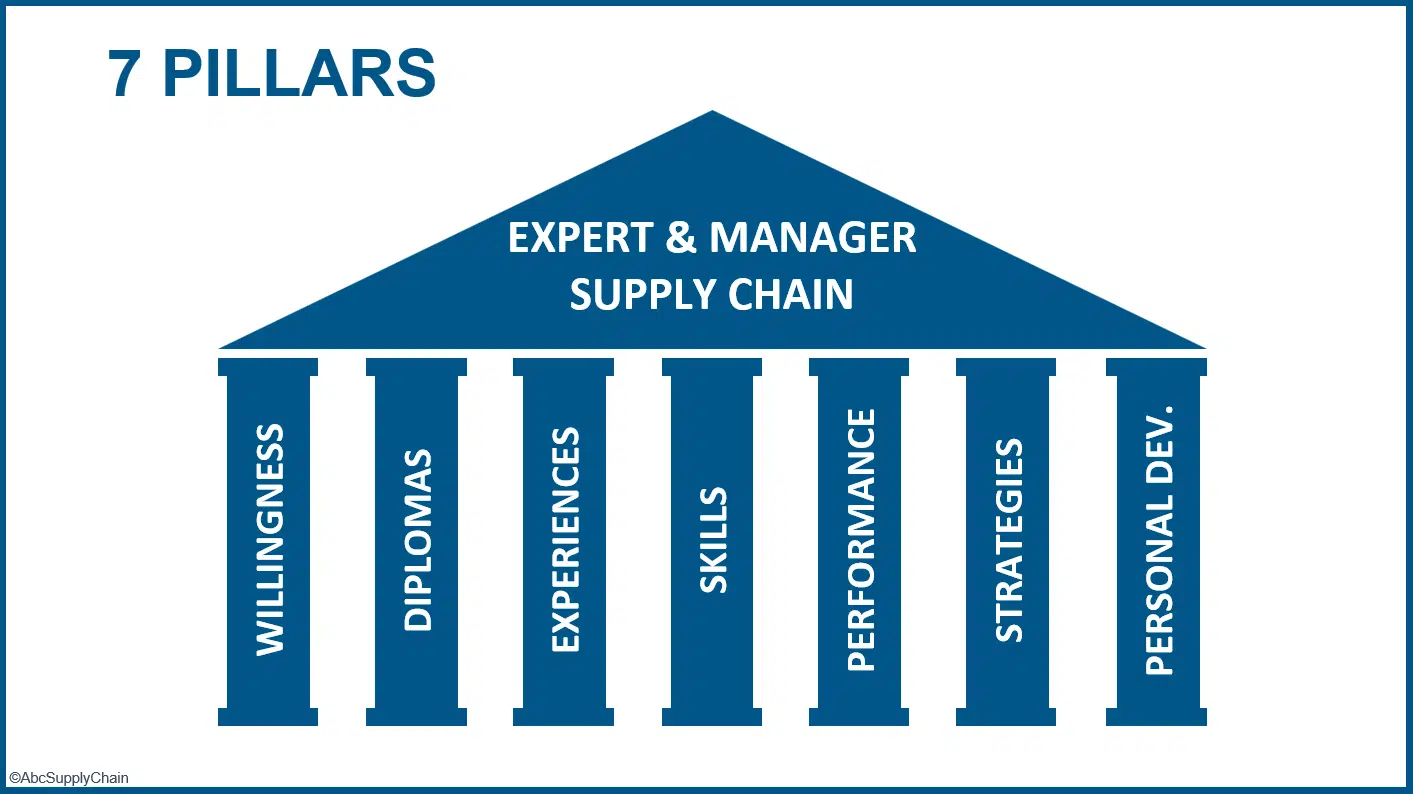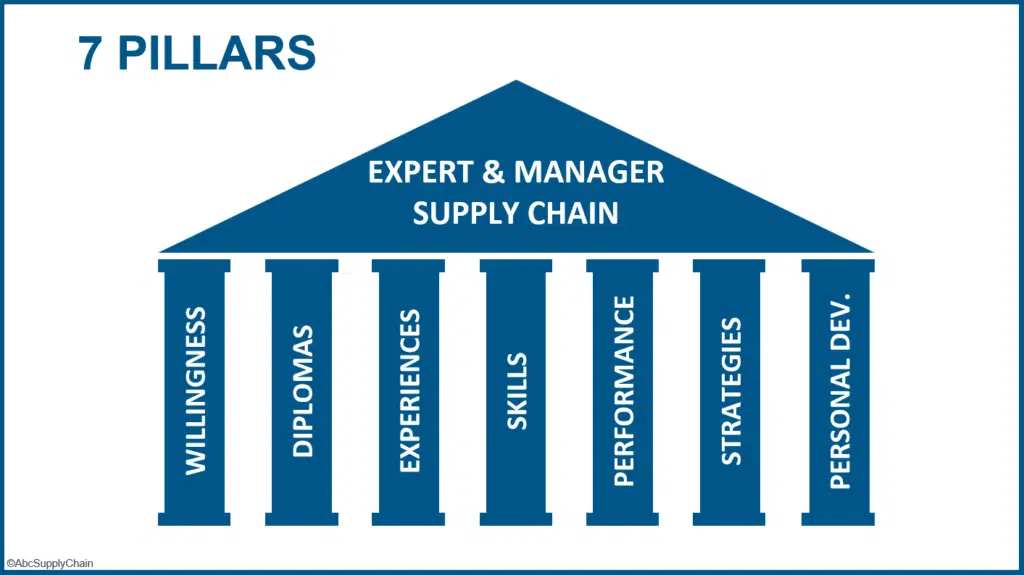 To become the person you want to be, both personally and professionally takes commitment. Diplomas will undoubtedly help you, even if they are not always mandatory. You will need to build up a real background of diverse experiences which bring you many skills. You will have to be efficient in your job and also develop a real career strategy to avoid mistakes. Finally, don't put aside your personal development, which will help you progress and will be a real asset once you are in the field. Read our article "How to improve your performance at work?" to learn more.
How much time do you spend on social media each week? 🤳 Are you on your Smartphone every day? I imagine that, like most of us, your daily life is punctuated by your screens; but be careful not to fall into addiction 📱. Set aside your time to train or work on projects that are important to you, and start fighting your nomophobia!
3) Schools, level of studies & diplomas: how to find your way?
Is it important to have a degree these days? Let's face it, many companies will first look at the 'Education' part of your CV. However, I am convinced that a prestigious school and a recognized diploma are not everything. You don't have to go to the best school in the world to get the career of your dreams.
First, don't pay too much attention to the marketing campaigns of the different schools: remember that these are businesses that recruit students who will pay, in some cases, large sums of money to be trained.
Still, I would advise you to go for a minimum of Master's level 👨🎓. Work-study programs are also preferred, as they will offer you what you will need the most as you continue your course: experience. This is what you should focus on. Your work experience will make a difference in the job market when you are competing against dozens of other recent graduates for a first job.
Don't have the courage/means/will to spend years training? Don't panic! More and more companies will look at your skills rather than the name of your diploma (although this is less the case in France). Big companies like Google or Apple are much more interested in the person they are hiring and what that person can do, rather than what school he/she graduated from.
Here are 2 mistakes to avoid when planning your academic future:
Don't go into excessive debt. This will only bring more stress in the future.
Avoid falling into the trap of the expert syndrome, or how to spend your life in school, training forever without spending any time in the field.
In both cases, you will leave with fewer advantages than others who have made better choices.
4) Strategic Skills & Know-How
Whether you are at the very beginning of your studies, coming to the end or looking for your first job in Supply Chain, the skills you need to develop remain the same. These skills are strategic, as they are the ones that will help you start your career well, develop it and reach your goals. So, what are the essential skills to start your career in Supply Chain?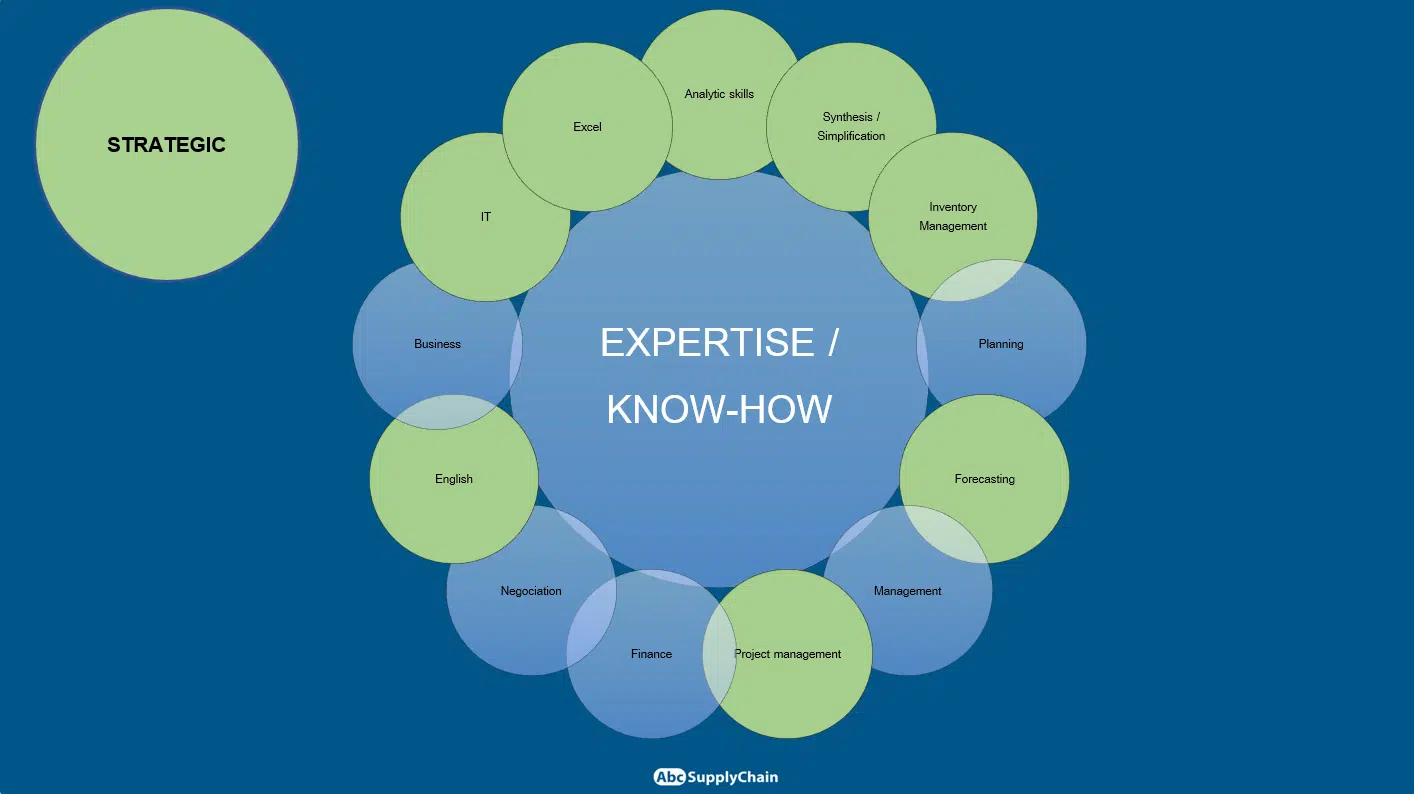 Analytical skills: learning to think, to be logical and to use good judgment in the face of different situations.
Synthesis / simplification: simplify and automate processes to be more efficient.
Inventory management: a very strategic skill, especially in times of crisis. Read our other articles on inventory management to learn more about this fundamental skill.
Planning: for a flawless organization. Think about automating everything to be more efficient.
Forecasting: directly linked to inventory management, forecasting can also be automated with a good Excel spreadsheet: have fun practicing this skill by using my free forecasting in Excel document.
Management: nothing stops you from developing your managerial skills during your studies: take the lead in a group project for example.
Project management: in the same way, whether at school or in an apprenticeship, nothing prevents you from contacting a business and asking them to set up a simple stock management strategy on a voluntary basis. It's an interesting experience for you and something to add to your resume.
Finance/negotiation: if you can observe these skills during a work-study program for example, this is the time to absorb as much knowledge as possible.
English: this is simply ESSENTIAL. You must have a fluent level of English, both spoken and written. If you want to improve, turn to online English courses.
Business: It is essential to understand companies, how they operate, and their objectives.
Computer tools / Excel: if you've been following me for a while, you know my unconditional love for Excel 😂. Millions of people use the software for good reasons. I talk about Excel but also other software in my article Software and ERP to master in supply chain.
5) Interpersonal skills & Know-how
Let's talk about interpersonal skills – more subtle than strategic skills and know-how, but just as important.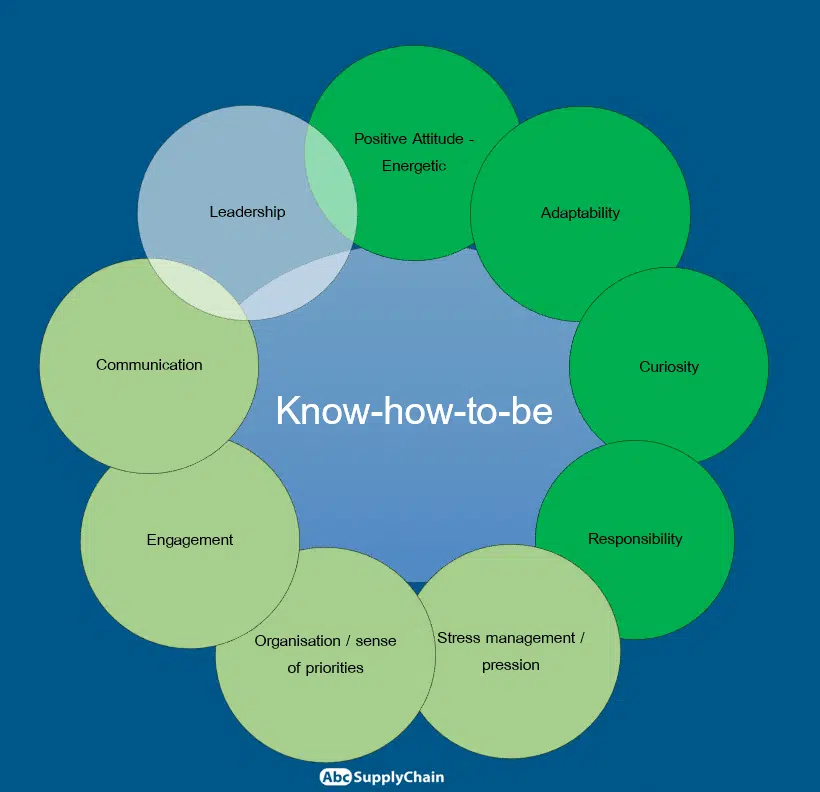 If you have to take only one thing from this section, it should be this: a positive attitude will take you far! Be energetic, smiling and positive! No employer will hire someone who is unenthusiastic or worse, who plays the role of the victim who can't find a job (don't go begging either…!)
Your adaptability must shine through! Show that you are a resourceful, curious person who learns quickly and wants to move forward 🕵️. You'll need to learn how to handle stress, but also work on skills you may not have learned yet. For example, I wasn't very good at communication, but that's a skill I've managed to master over the years.
Don't be afraid to ask your colleagues, supervisors or teachers for feedback on the skills you need to develop. Don't come into a new work environment pretending to be someone you are not. Being honest and transparent will be much more appreciated by your superiors than someone playing a role.
6) Professional experiences in Supply Chain
As discussed above, professional experiences are part of what students and young graduates should prioritize at the beginning of their career in supply chain. And there are a lot of choices because Supply Chain is huge!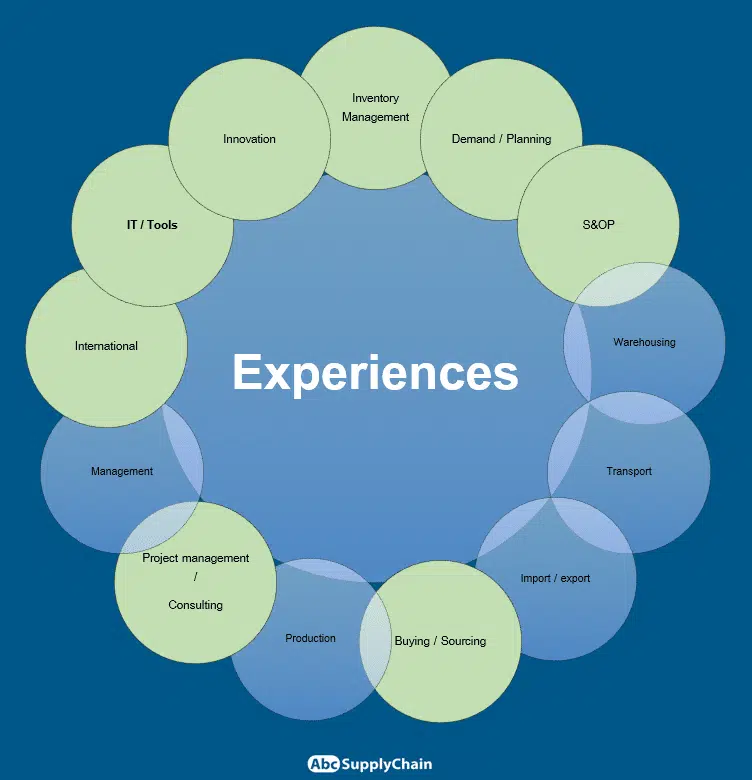 I have highlighted in this image the experiences that I consider to be strategic.
My advice is to quickly explore all areas of the supply chain through various experiences, and then focus on the area you are passionate about. This will also allow you to learn more about the Supply Chain as a whole, which will help you boost your career in supply chain.
7) Strategic sectors in Supply Chain
Are you wondering which strategic sectors to focus on to find your first professional experience, your first internship, or your first job?
I always advise students and young graduates to focus on the quality of the mission and the boss. Remember that when you are invited for an interview, it is not only the company that will decide if they want to work with you or not; you have to make that decision too. Is this the right company for you? Do you have a good feeling? Are you going to learn a lot, be challenged, and have good opportunities?
Then, aim for companies and industries that are growing fast, like the pharmaceutical or e-commerce sectors ️. The other advantage of joining these kinds of industries is that you will have more opportunities: the more the companies are growing, the more you will be able to 'move' internally if you want.
Having a big company on your resume is an asset, there's no hiding it, but it's more important to do what you're passionate about. If a small or medium-sized company can offer you that opportunity instead, then your choice is made! A smaller company may offer you more responsibility and more opportunities to experiment.
8) Typical Supply Chain career paths
All Supply Chain career paths are different, but there are some typical paths that I would like to talk about.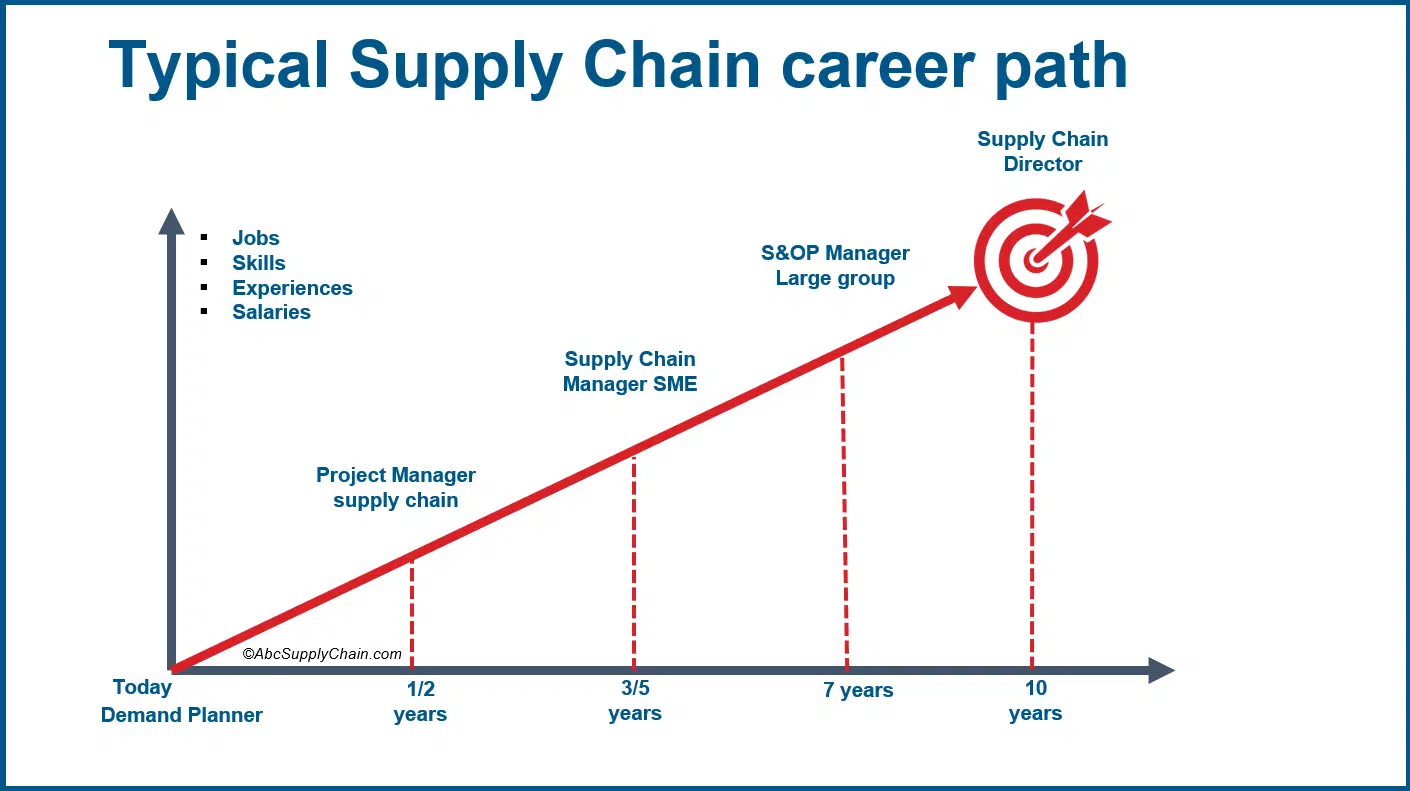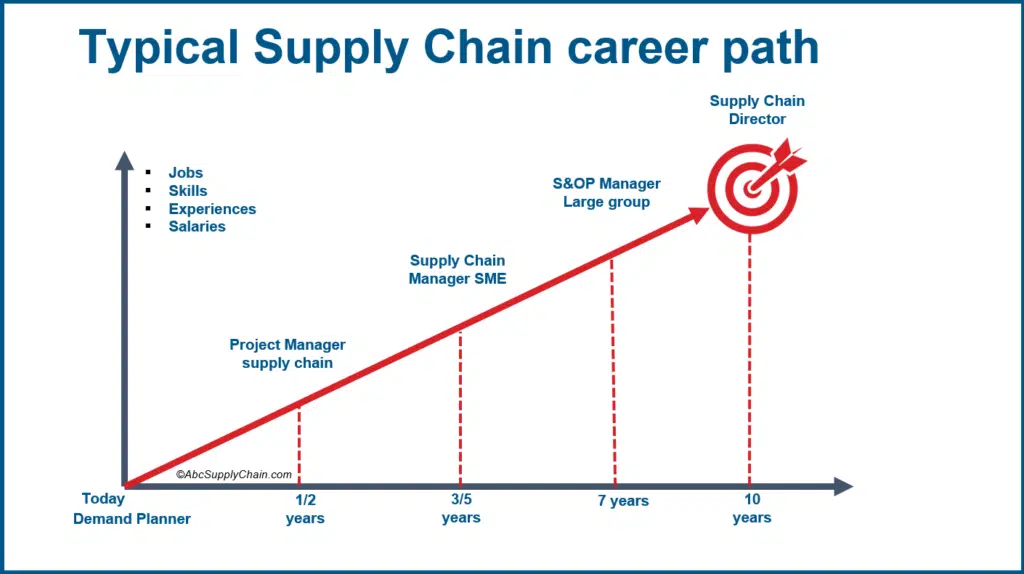 I always advise you to try to touch everything to discover what you are really passionate about. For example, you can start with an operational job such as Demand Planner, then do projects and become Supply Chain Project Manager, followed by Supply Chain Manager in a small or medium-sized company, S&OP Manager in a large group, and finally, Supply Chain Director. The important thing is to have your final goal in mind; the intermediate steps will be built according to your experiences and opportunities.
Ask yourself this question: is the job I'm doing today, or for which I'm going to apply, going in the direction of my final goal? If not, don't stay in it too long or simply don't do it 🚫 !
Are you a student or a recent graduate, and does logistics interest you? Having a first experience as a warehouseman can lead you to work as a logistics coordinator, then logistics project manager, operations manager to finally reach your ultimate goal: warehouse manager.
Finally, why not aim to become an expert in your field? Maybe you are studying for a Masters in Supply Chain today. If you find a first job in warehouse management, try to train on the side in data science, for example (in the evening or on weekends). This could open the doors to a career in data science! Go from Supply Chain Data Scientist to Supply Chain IT Project Manager, in order to implement inventory or supply management models. You could eventually become a Data Science Consultant with very high salaries for a confirmed expert!
9) Salaries in Supply Chain
We already talked about it in our Supply Chain jobs and salaries article. Salaries can quickly increase in Supply Chain. The key is constantly acquiring the skills to reach higher responsibility positions and keeping your 'final' goal in mind. Learn how to negotiate your salary well 💰. Nevertheless, don't become obsessed with your compensation (especially at the beginning of your career in supply chain). Always prioritize the quality of the assignment, the boss, and what you can learn from a job.
10) Analyze your LinkedIn profile
If you don't have a LinkedIn profile yet, create one now! If you already have one, follow my tips to showcase yourself on this social network.
As a student or recent graduate, you don't have much experience yet, so you'll have to learn how to sell yourself. I've recruited over 100 people in my career, and I explain what will make a difference on your LinkedIn profile:
The photo: SMILE 😁! Your photo is the first thing a potential employer will see when clicking on your profile. Make sure it's bright, and that you look enthusiastic and friendly! Forget photos that are too dark, without a smile, taken from too close or too far away, or worse: a photo taken at a party, with friends around… Stay professional!
A detailed experience: Under each title, don't forget to add the details of your professional experiences or internships. What were your missions? What skills did you develop? What did you implement in the company? What were the results (numbers)? Did you improve a process? What tools did you use? Be precise without writing huge descriptions. Keep the text airy and the information concrete and easy to read.
Good references: ask your colleagues and managers to write some recommendations on your profile. They won't go unnoticed.
Quality messages: If you decide to send a direct message to a potential employer, work on your message beforehand and personalize it! Employers don't have time to waste on spam and copy/paste messages. Avoid spelling mistakes and long-winded texts!
11) Your First Supply Chain Job: Making the Right Choice
I've already talked about it several times in this article, if you're looking for your first job or are about to accept an offer, be sure to choose a good assignment and a good boss, rather than keeping only the salary in mind.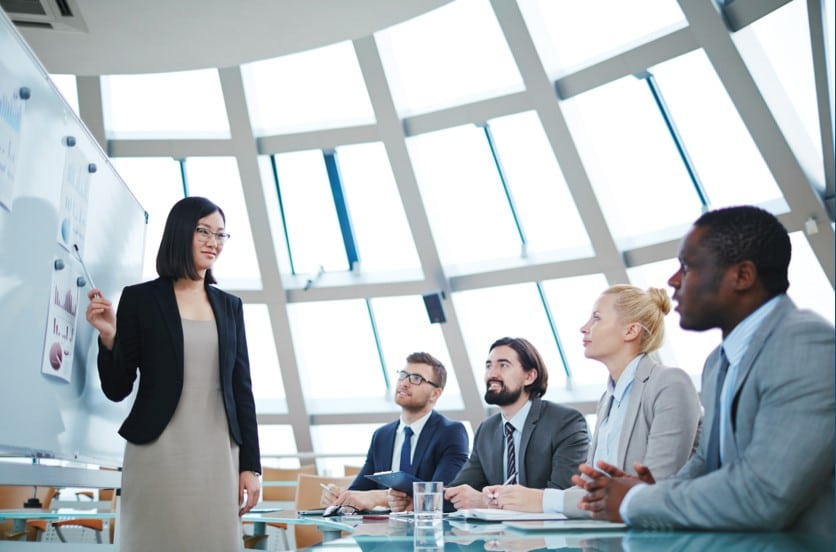 Always ask yourself if the opportunity presented to you is going in the direction you want, in the short, medium, and long term.
Finally, one last point about your first job: the worst thing to do when you start your first job is to position yourself as an expert with great degrees, coming from great schools, who is going to come and change things in a company that does not know what Supply Chain is today. That arrogance will not make a good impression 👎.
What is an employer looking for, regardless of the assignment? Someone reliable, who doesn't have to be told the same things repeatedly, who listens before they speak, who will manage to provide solutions rather than problems, and who will focus on the assignment. Once you have proven that you work well and independently, your boss will start to trust you and give you more responsibility and propose new things. Don't burn out, it takes time ⏱️!
I hope this article has helped you decide what steps to take to reach your Supply chain career goal. Listen to your intuition, and if you feel something is not for you, don't do it! It's perfectly normal to be a little lost at first. You may make mistakes along the way, but it doesn't have to be that way, and you will always learn from your mistakes. Remember to keep learning throughout your career in supply chain: you'll never be done learning! Learn from the people you work with and, most importantly, your chosen assignments. Good luck 🚀!
Would you like to go further?
Work on building new skills and start boosting your career in Supply Chain with FREE, LIVE workshops with me!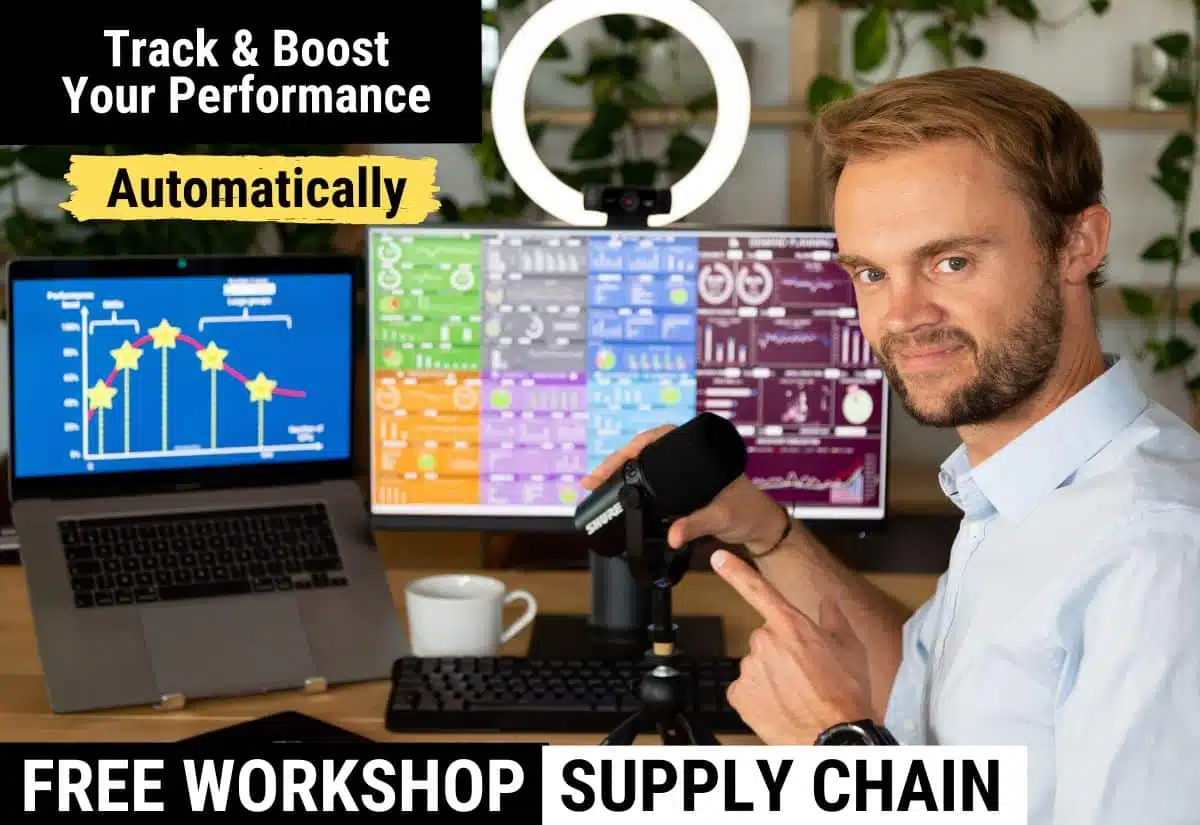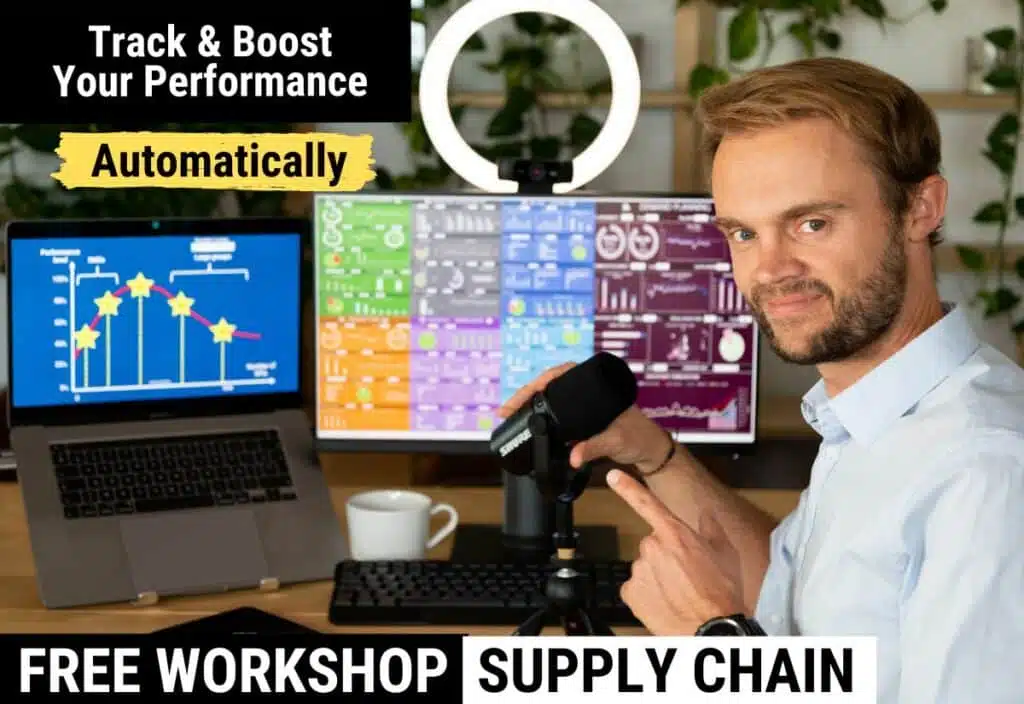 Founder of AbcSupplyChain | Supply Chain Expert | 15 years experience in 6 different countries –> Follow me on LinkedIn