Since the beginning of my supply chain career, I have noticed that companies waste a lot of time collecting and updating data when they should instead analyze it quickly to make the right decisions to boost their performance.
There are a multitude of specialized tools and software (ERP, BI, TMS, WMS, etc.) in our businesses to centralize relevant data, and allow us to optimize our systems and mostly to automate our tasks such as inventory management, forecast, reporting …
Get train and master these tools is essential today in order to boost your career in supply chain.
Disclaimer : this article is not sponsored by any of the software listed below. This is my personal opinion based on my 15 years of experience working with numerous software in large and small companies.
The Great Excel
Still, 99% of companies today work with this tool. Despite the emergence of new (quite expensive) software such as SAP, Netsuite, Oracle, Excel isn't less important.
In general people in companies would use those software to export data (stocks, sales, forecasts) which they would process and analyze on Excel. After redoing forecasts, stock management, etc … They will reimport them into the tool in question.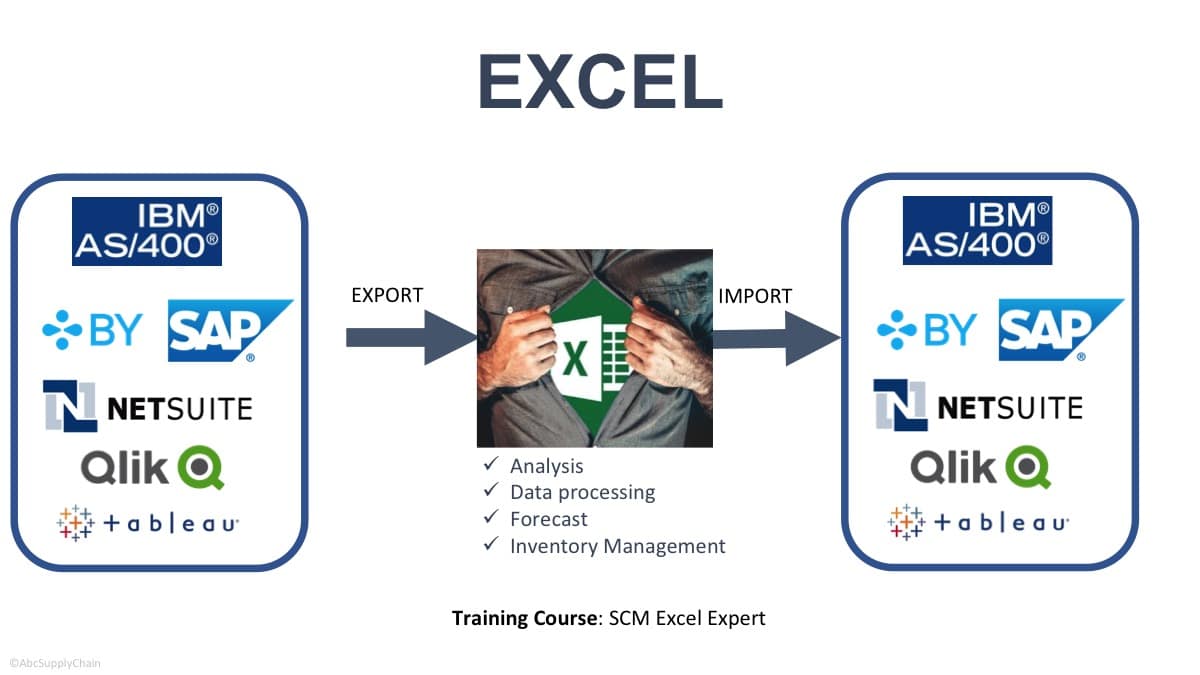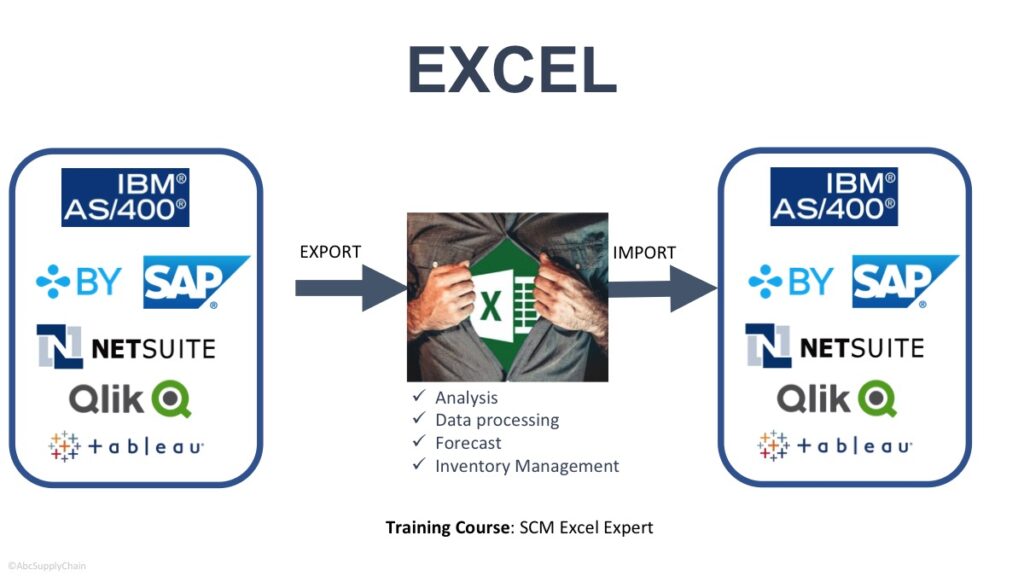 We can't call it a best practice, however Excel is currently the easiest and most convenient tool to use for analyzing data.
You can do almost anything on it, but its limit is collaboration. Indeed, if you have to work on the same document with several people, it's complicated. The goal is to test your new processes and methods on Excel before automating them on your ERP / MRP …
I consider myself as an Excel expert. From my first professional projects, I trained myself on the tool to automate entire warehouse supplies using macro. I learned it all on my own, and then developed my own charts and " SCM Excel Expert " course.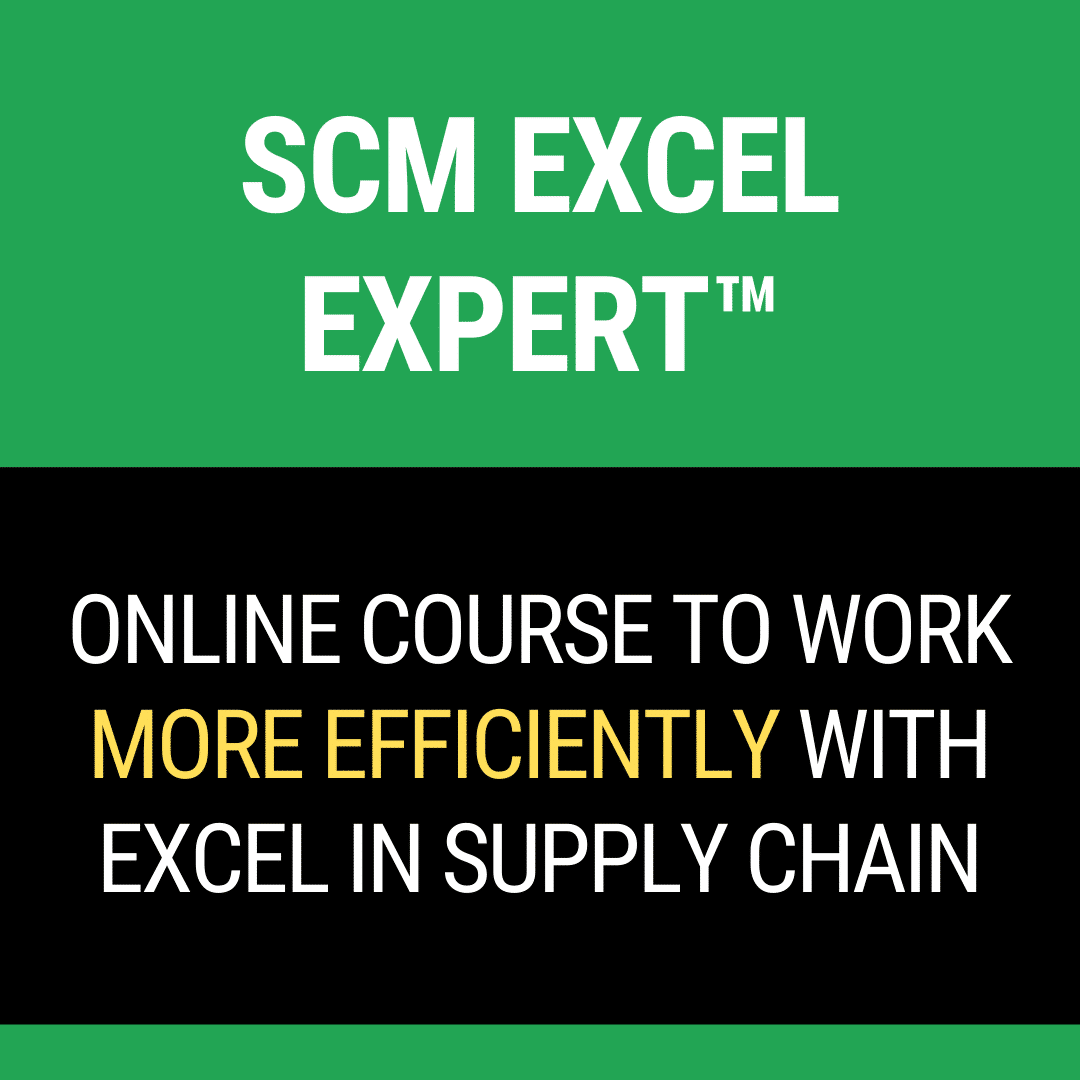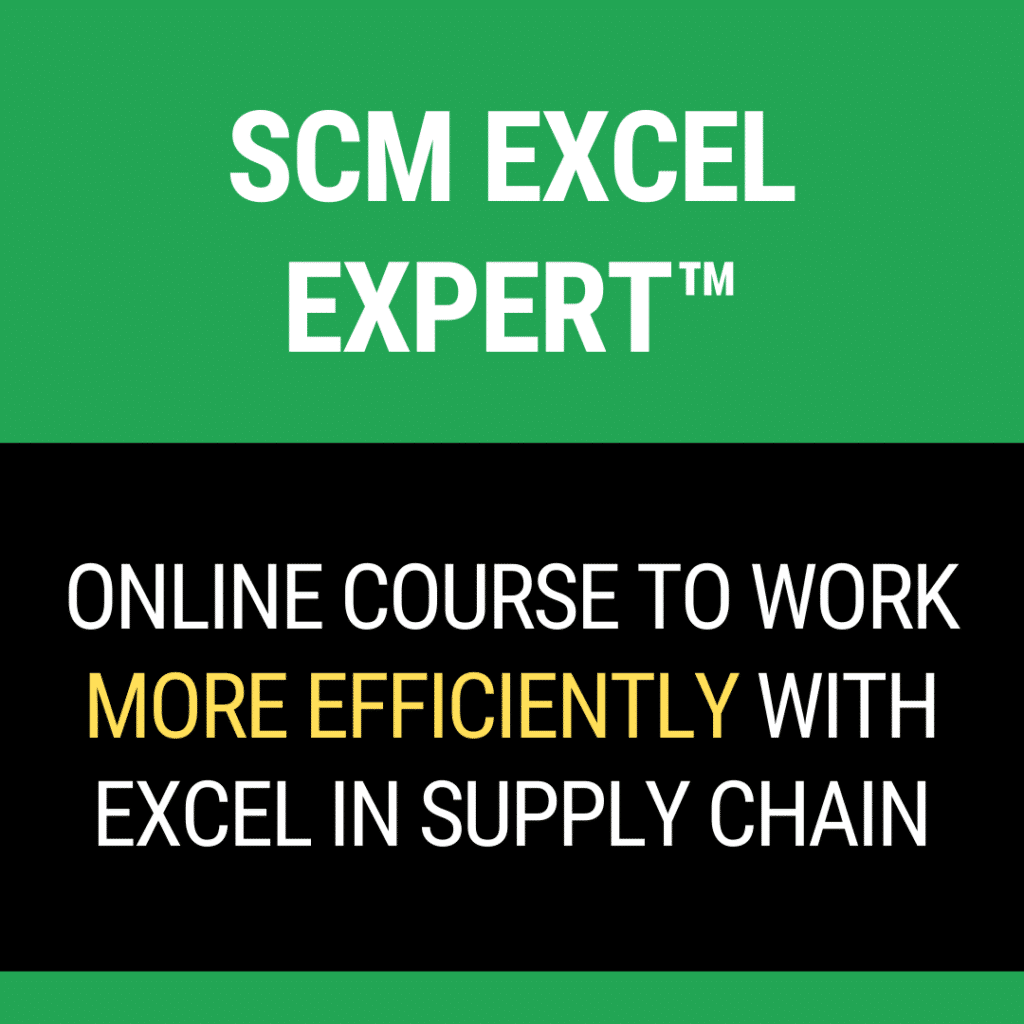 This program is dedicated to the supply chain professionals, with concrete examples. I also explain how to do macros without coding. It is essential to master Excel to fast track your career.
BI : Business Intelligence
These are reporting software, similar to Excel, which will help you view data clearly. Even if they try to oust Excel, it remains software number 1. Among these tools, you will find:
In the supply chain, we spend a lot of time analyzing data. These tools are there to help us visualize relevant information and make good decisions. The advantage of this software is that it is directly connected to your databases, so you can generate charts automatically without going through macros although it usually takes a little development behind. For example, you have PowerBI which can even be integrated on Excel because it is owned by Microsoft.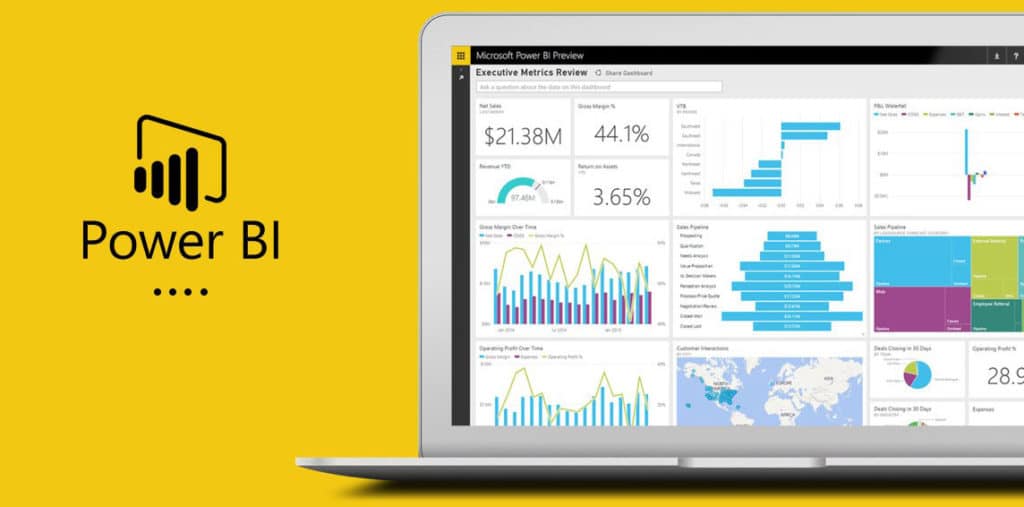 In my opinion, it is essential to have an advanced level in Excel to test and use these Business Intelligence Software optimally.

If we look at the search volumes of these competitors on Google Trends, we notice that Microsoft's PowerBI is constantly evolving. That's why, if you need to master a tool in BI, I'd recommend PowerBI which belongs to Microsoft just like Excel because everything is integrated.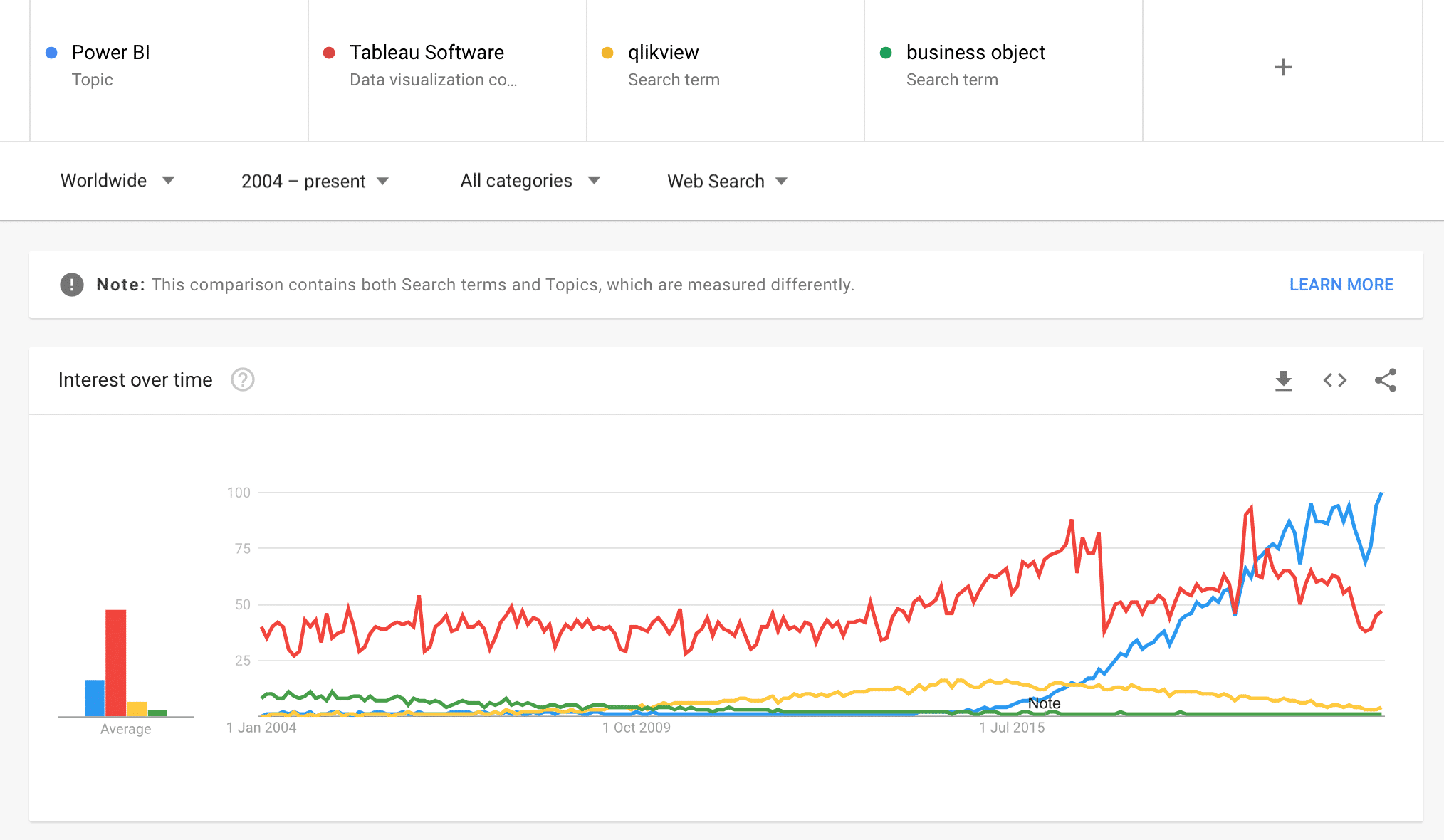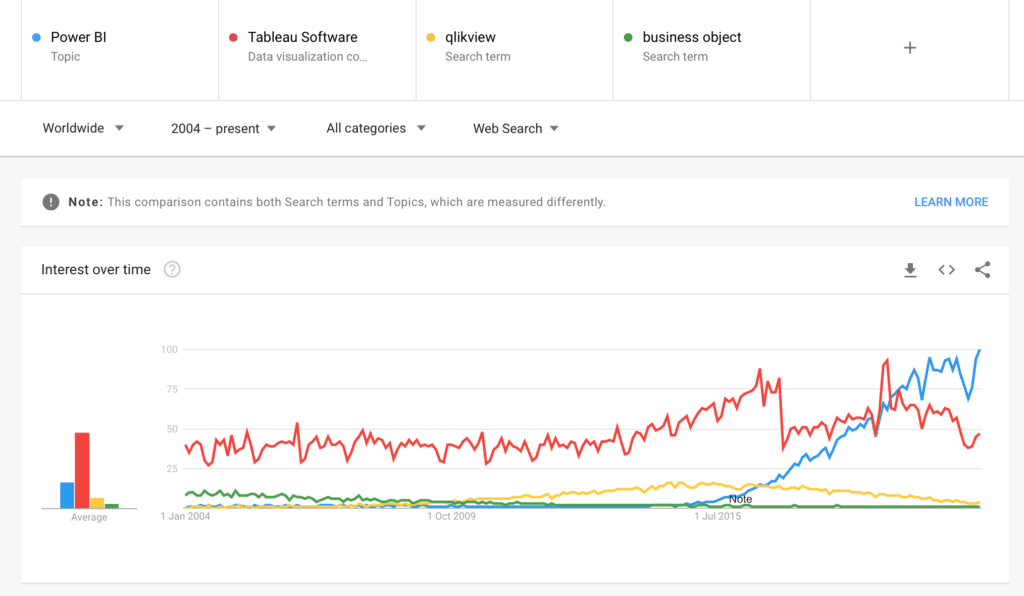 TMS : Transport Management System
These are tools help you to manage your transport, including local and international tracking and delivery. They integrate research and operational optimization to enable, for example, to optimize in-store deliveries to multiple destinations. It is also used to connect everything related to customs – import / export.

There are a lot of tools available but not a strong market leader. Either companies create their own solution, or they go through an ERP or important software such as Oracle or SAP quite generalist but which include a TMS section.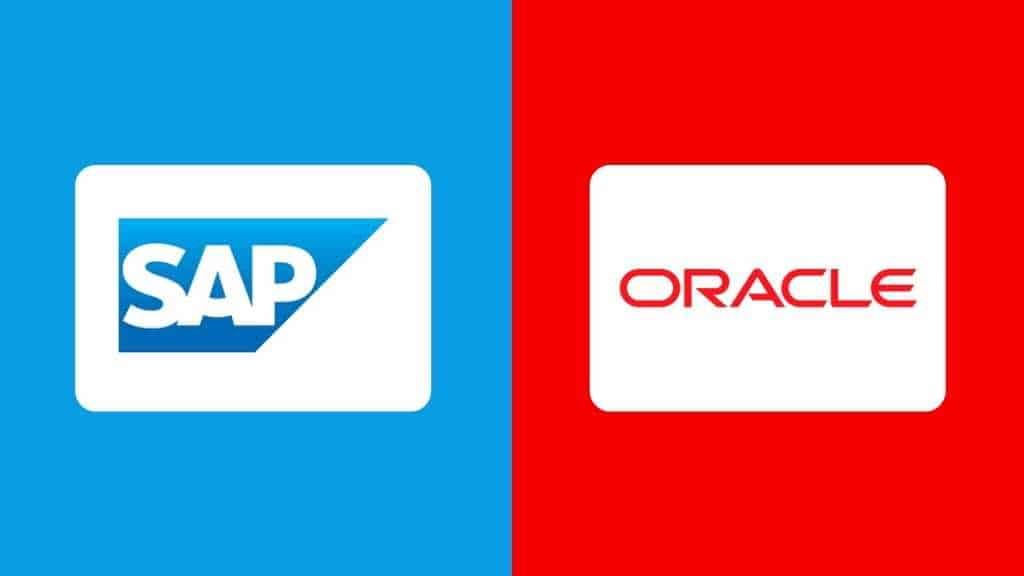 Here are a few examples:
If you need to specialize in transportation, I don't have a top tool to recommend. However, I advise you to focus on the bigger ones such as SAP, Oracle or Microsoft even if today it doesn't have software capable of handling the entire chain (at least not to my knowledge).
I think transport management is still very manual and it's not crucial to master these tools unless you want to make a career in this field. In this case, I advise you to become a specialist in one of these tools in order to have more opportunities in the future.
WMS : Warehouse Management System
These are the tools that manage the whole process inside the warehouse. In this more consolidated market, you have important players. The most well-known (that is not general), would be Manhattan Associates, he's currently fairly rolled out and still growing strongly. Next you have Oracle, SAP, and Blue Yonder (JDA) more generalist. You also have a lot of companies still working on IBM (AS / 400) which is kind of MS-DOS.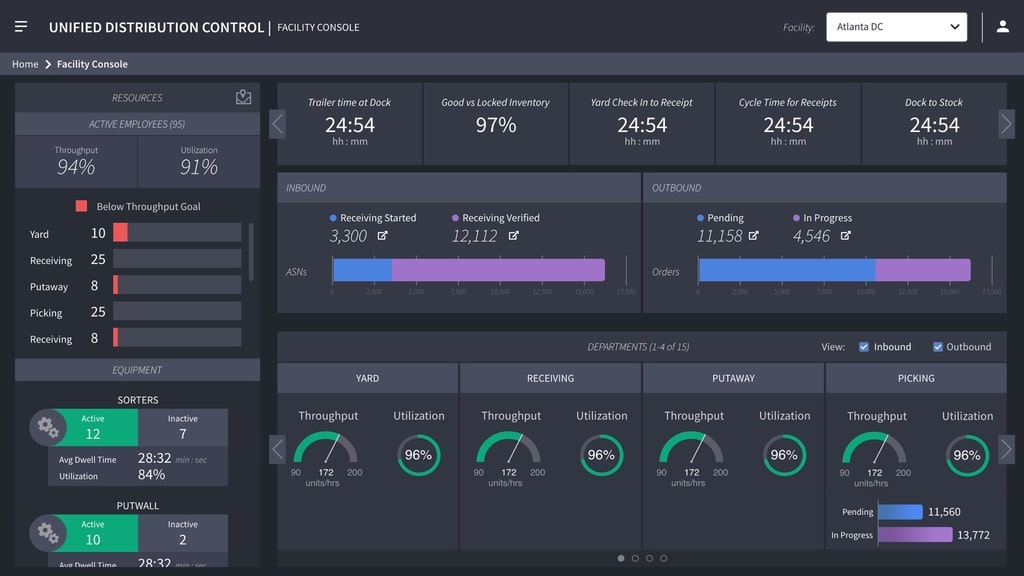 These are the 5 main software obviously, there are plenty others like:
For the WMS, I would focus on Manhattan Associates. SAP and Oracle are developing new solutions to upgrade, unlike Blue Yonder and IBM (which has completely shut down).

No matter what software your business works with, you have to master it. This will help you for the rest of your career.
CRM : Customer Relationship Management
It is not really a tool FOR the supply chain, but rather a tool that works WITH the supply chain. Basically, this tool monitor customers and their purchasing behavior (products, recurrence, etc.). It allowed the management of several teams at different levels such as :
Human resources

Sales

Client Service

Operations and finances

Hands-on team

Project management

Marketing

Reporting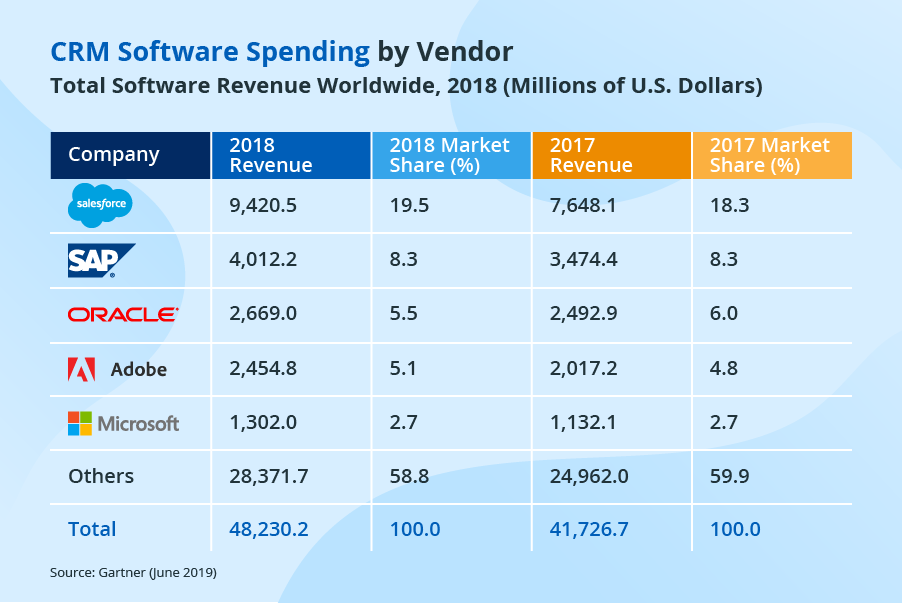 It's more and more linked to the supply chain because it is more and more global, so you need more than ever to follow your customers, no matter your industry. That is to say, these CRMs can also integrate forecasts and improve your service rate.

The market leader is undoubtedly Salesforce, an iTech company that is very well known today. For a long time, they have heavily invested in the cloud as well as in the IOT (Internet of Things) part.

If your business uses Salesforce, or if you want to learn about it, I definitely recommend Salesforce. It's a growing company and will continue to grow in the coming years, so it's wise to get trained through their modules because it's the door open to many projects.

Their certifications are hard to pass, but they can guarantee you attractive salary levels as well as opportunities as a consultant or freelance.
MRP : Manufacturing Resource Planning
MRP has several definitions. We call it Material Requirements Planning, Manufacturing Resource Planning or even Material Resource Planning.

In order to understand what an MRP is, we will focus on the definition of ERP. An ERP is a tool that allows you to run a business, and therefore manage different areas such as sales, customer service, human resources, accounting / finance, purchasing, distribution, inventory management and, the distribution part. As you can see in the chart below, the MRP part focuses on the parts distribution of stock, stock management and production management.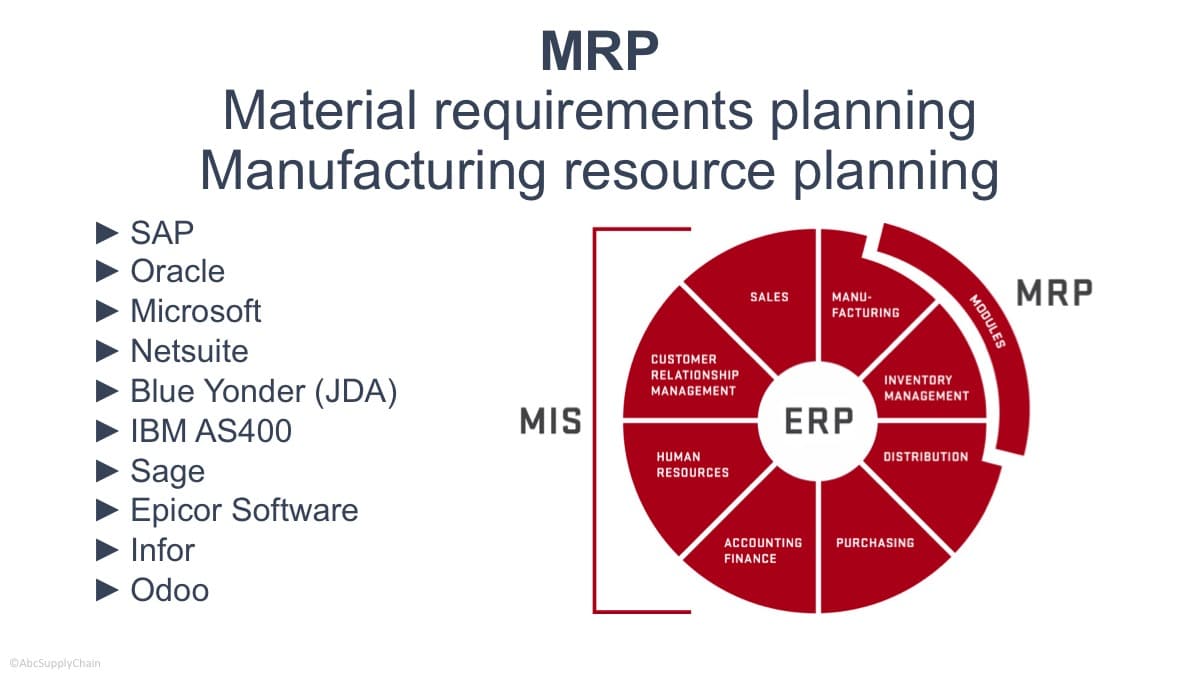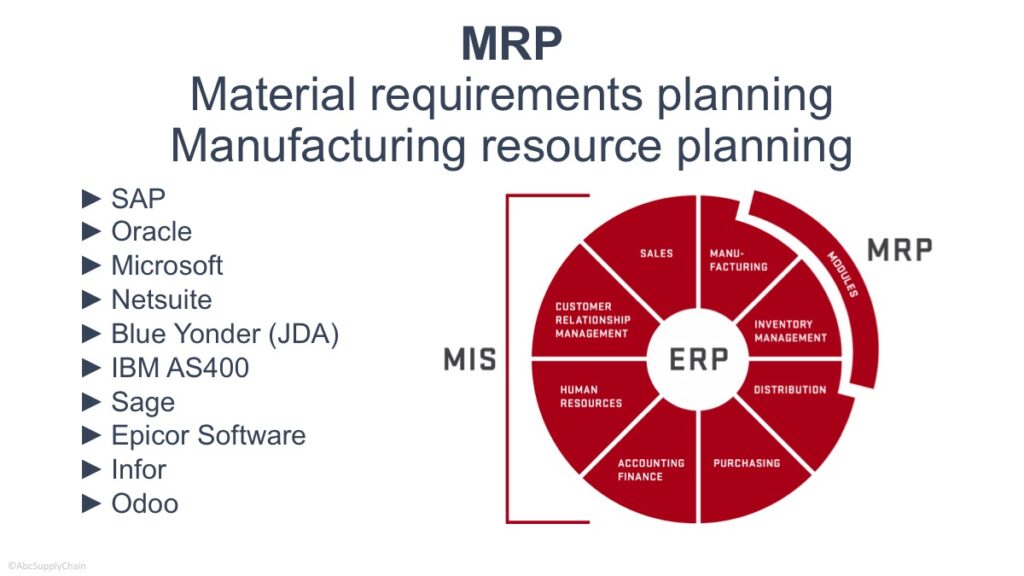 The leaders in this market are also the leaders in the ERP market, some of which have been mentioned since the beginning of, such as :
My advice remains the same: train yourself on these tools because it is strategic for your career.
ERP : Enterprise Resource Planning
ERPs manage all business processes. When you install one of these tools, you can choose different modules. In the supply chain we will usually focus on the modules related to MRP, as well as the finance, purchasing and, sales parts to improve our forecasts.
In the main players in this market, we have (no surprise) SAP, followed by Oracle with ERP Cloud and Netsuite which are, in my opinion, very good tools. Then you have Microsoft, which is a little behind but has the potential to catch up, then Sage, Workday, Infor and, Epicor.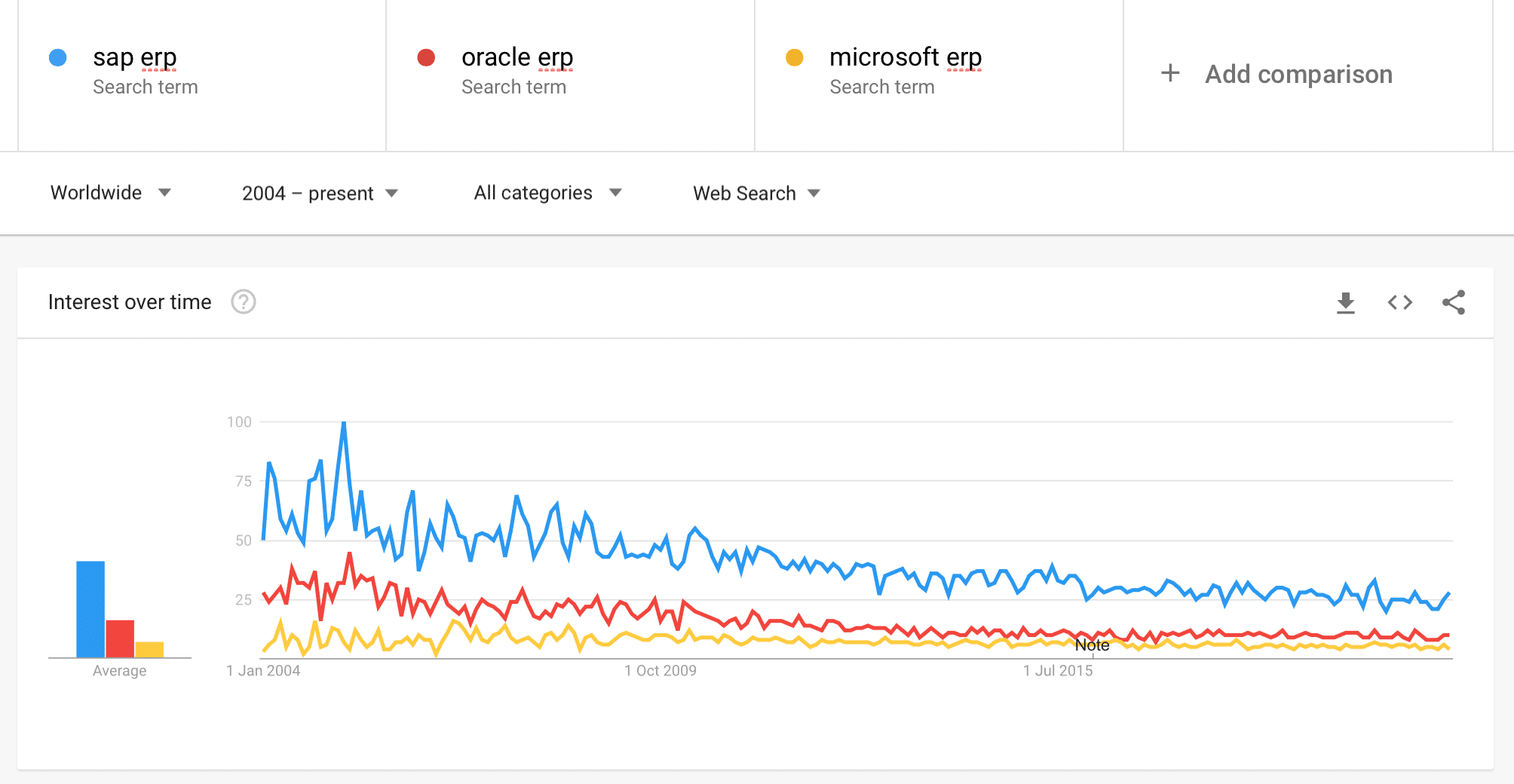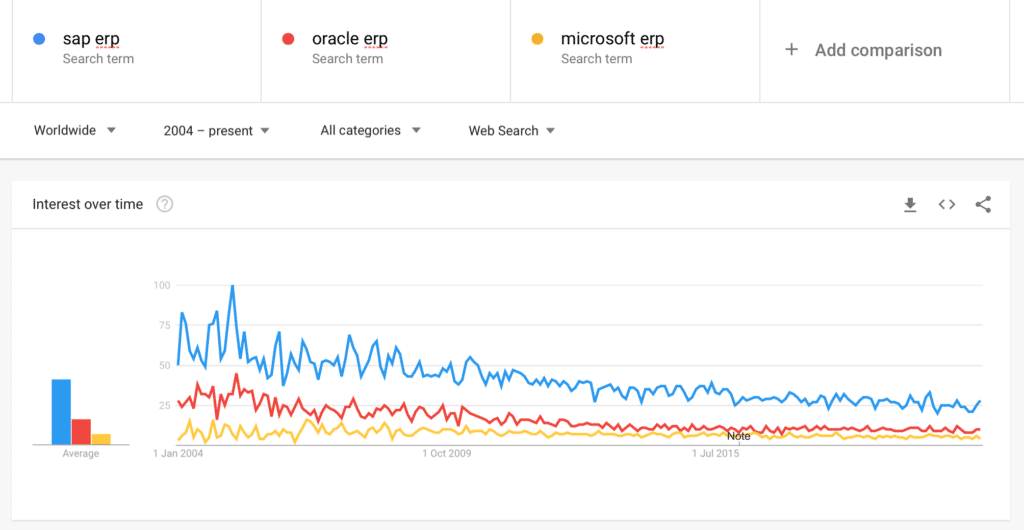 My advice is to focus on the first 3, especially SAP which is the most widespread today internationally. Plus the company is highly appreciated and established on a stock market listing. However Microsoft has a very good dynamic in all of its software and is catching up on the cloud. So I expect them to compete with SAP at the ERP level in the medium term. Netsuite (acquired by Oracle) also offers good prospects for development.

I think your choice of tools will be influenced by your first job in the supply chain. You are likely to specialize in software that is already implemented in the company you work for. Whatever it is, become an expert! This will allow you, like me, to manage integration or transformation projects around these ERPs.
The Amazon exception
Small digression on a subject I like to talk about: Amazon. Unlike all the other companies, Amazon decided to develop everything in-house. The reason is that these software, in order to be able to adapt to everyone, remain general and therefore are limited in specificities and performance.
The company has therefore developed all its tools using open-source software (free languages) to obtain an infrastructure dedicated to Amazon. Subsequently they began to rent and sell this infrastructure (physical and IT). To find out more, you can read my full article on the secrets of the Amazon supply chain here.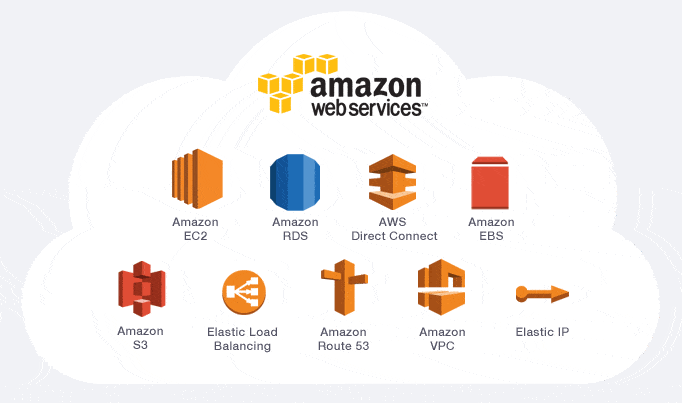 Get trained without being in a company
Although it's complicated, it is possible to take training directly in the company in question (eg SAP). These courses are quite expensive, but the advantage is that in this period of a pandemic, it is possible to take the courses virtually and not in person.

He has other courses on online platforms, but the limitation is that you don't have access to ERP which makes it difficult to learn. The best way is still company training to practice on concrete cases.
I will develop several concrete training courses to master these supply chain software on this subject in the future. Subscribe to my newsletter so that I keep you informed of news and new tools.
To go further
How to become Supply Chain Manager – 6 Pillars
Safety Stock Formula & Calculation : 6 best methods
Founder of AbcSupplyChain | Supply Chain Expert | 15 years experience in 6 different countries –> Follow me on LinkedIn