According to the US Census Bureau, over 60% of Americans over 25 don't hold a Bachelor's degree. All over the world, more and more managerial positions are being filled by candidates without a degree. In my opinion, becoming a Supply Chain Manager (SCM) with no degree and little to no experience in the field is within the realm of possibility. May I invite you to look into some tips to land your dream job as an SCM?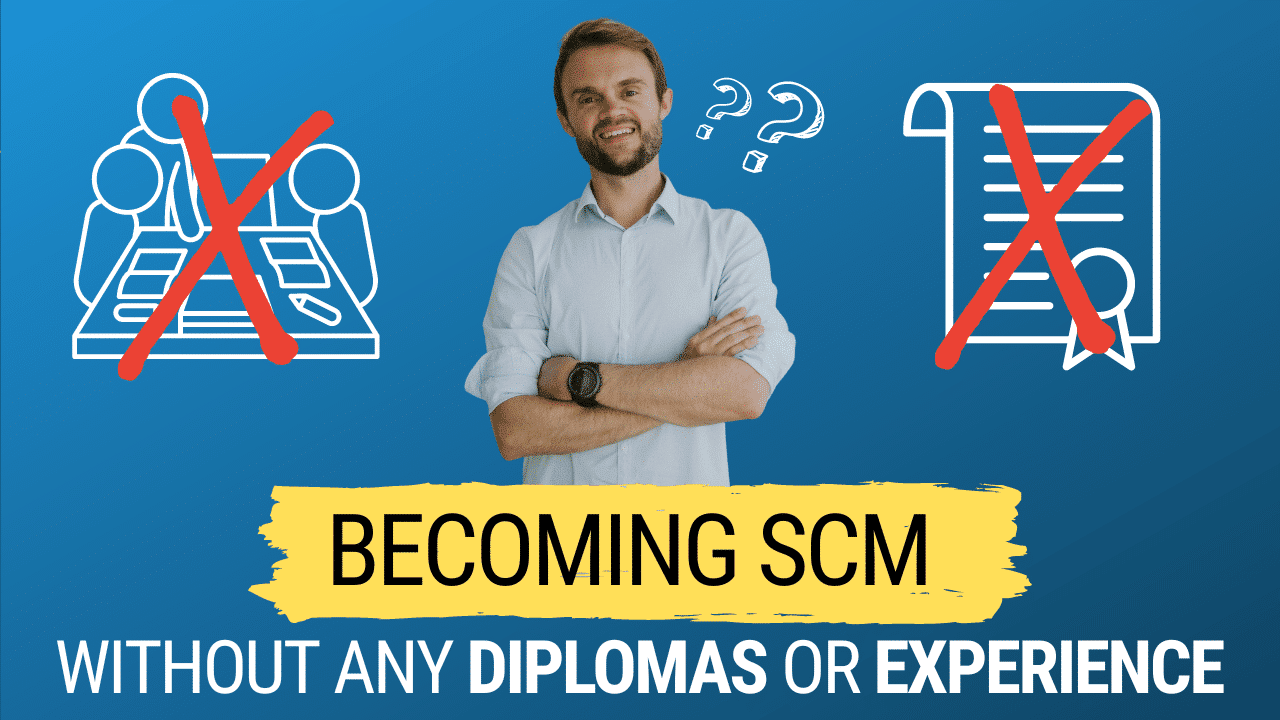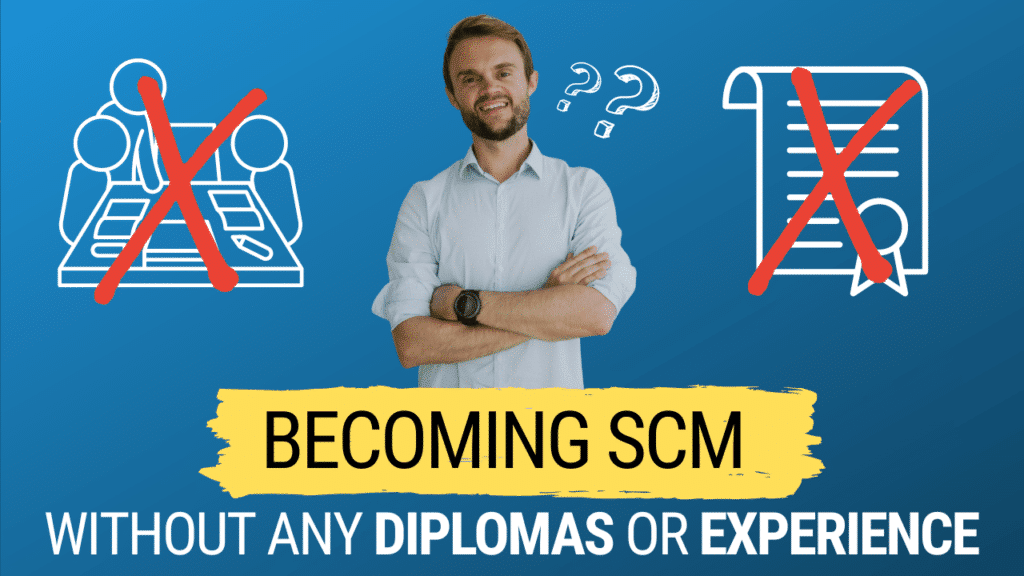 The Supply Chain field needs organized minds
As Supply Chain Manager, you must juggle stocks, supervise service levels, and streamline lean management strategies. Technical knowledge, alongside the ability to prioritize, are definite must-haves. In short, logical thinking profiles are required.
I've had the pleasure of meeting many of these atypical managers, who all relished practical experiences. Granted, these profiles sometimes clash with academic success. But we'll get to that in a moment. If this sounds like it could be you, then you're probably in a very good position to get hired as a Supply Chain Manager.
Even if you come from the IT branch or have worked as a tradesman before, meaning you've no experience in the Supply Chain per se, some resumes convert particularly well into this field. And yes, it's possible to upsell yourself with no experience in management. Having said that, you must have that little extra something special that places you ahead of the competition. A solid background in a niche market like nuclear energy or the aviation industry, for example.
To summarize, work experience and university degrees can tick a few boxes during the application process. Still, there are more criteria out there you can bank on to become a Supply Chain Manager.
I think that one of the keys to getting hired as a Supply Chain Manager is to have a wide professional network. Interpersonal skills will get you far and will lead you to discover companies that are open to candidates without a degree or without experience in the field.
Alternatively, if you've got work experience in the Supply Chain field but do not hold a degree, that's fine, too. In my opinion, it's one of the best and shortest paths to achieving your career goals. I learned a lot more once I started working than I did during my studies. All the skills that I developed in my day-to-day work are actually among the most sought-after by recruiters. Take problem-solving, decision-making, or using industry-related software such as SAP, for example. Of course, the theory behind it all helps you get ready for the next steps, but that's just the beginning. There is no better place to learn about managing expectations and getting projects over the line than by confronting these… at work. Getting your head around some issues can take days of calls, emails, and meetings. I'm personally a huge fan of learning by doing.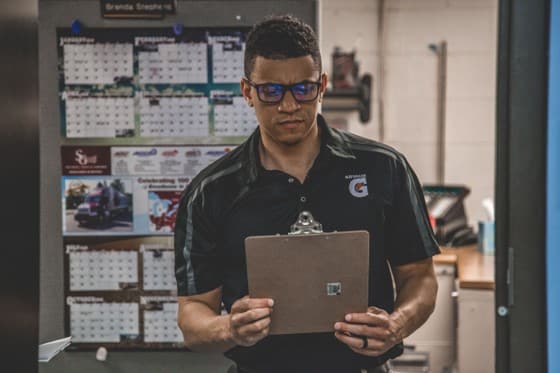 Whatever the case may be for you, you'll need to highlight the skills that matter in Supply Chain. And remember, they have the potential to make you Supply Chain Manager! If you're skilled at using ERPs and monitoring KPIs or if you're particularly good at project management, that's a very good place for you to start promoting yourself.
How to succeed in your job interview
That's when it comes to the crunch. Let's take a step back and think from a recruiter's perspective. I've held this role just as I've been on the interviewee side. I was in the same boat as you, preparing for the interview by going over checklists such as:
Know what your future employer is about, including noteworthy facts and figures > Check.
Inquire about the employer's reputation > Check.
Find out which big projects they're currently working on > Check.
Rack your brain to summon concrete examples to answer some of the most commonly asked questions > Check.
And how about preparing for the new you, that is, in a Supply Chain Manager's shoes? How about your plan for the first day, the first week, and the first month? This is precisely what recruiters are trying to evaluate during the interview. They're deciding whether you'll be competent in managing stocks, producing accurate forecasts, and negotiating the best contracts.
What if you laid it all out for them? I think the interview is the perfect opportunity to present your vision for how the Supply Chain operations should be run. You can list your top three priorities for week 1 if you like. The aim is to convey clear-cut goals and the tools you'll use to achieve them. As a recruiter, I must say that having someone demonstrate the mechanisms behind future company growth instills confidence.
So here's where not to be shy! Show the recruiters how you intend to improve product availability for the 10, 50, or 100 top-selling products while reducing stocks. This ploy is sure to reduce costs and enhance service levels. What's not to like?
Take the interview as your chance to shine. Once all the hard work has been put in to set up an efficient Supply Chain, your superiors may not care much for crediting anyone with it (whether you, one of your colleagues, or your predecessor). Nor will they know exactly how much it has translated into in terms of overheads and net savings. If you can forecast a percentage of growth in the short- to midterm, now is the time to say it. Impress with your insight. Whether the figures prove right, what the recruiters hear that day is what will stick in their memory.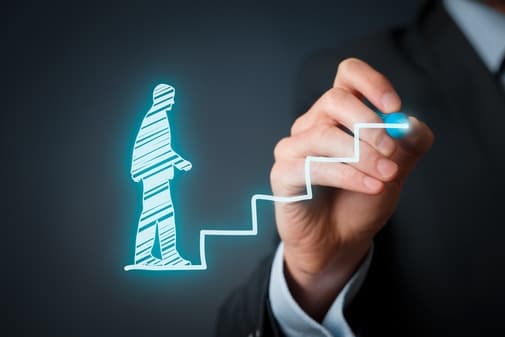 Why are applied courses important in Supply Chain Management?
Just because you don't hold a diploma or have sufficient work experience doesn't mean you can't have great certifications. In fact, despite a degree still being usually required to become an SCM, I think things are changing, with degrees holding less and less appeal.
A little side note: if you're contemplating a university course: yes, it remains a valid choice. Place more emphasis on the study level you want to go for rather than where it was delivered from. A prestigious university in a given country may not be known outside its borders. So if you're going to work abroad one day, this is something to be mindful of.
As for those of you without a degree, that's fine. There are other ways to add to your skill set. Highly-regarded Supply Chain courses give you all the tools you need to nail that interview. These courses will teach you the right methods and tools needed in your new role. Once you're clear with that, you can discuss your short-term, midterm, and long-term strategies. With such an approach, you'll be practically one foot in the door already.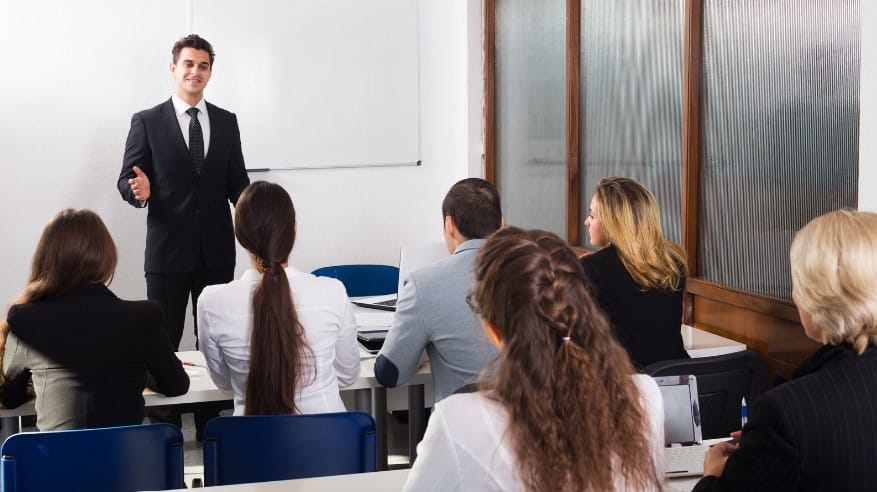 But how to set priorities correctly and learn to build reliable partnerships when you're new to the job? That's where specific courses on various aspects of the Supply Chain are required. Say you're currently working in import-export or project management, and you're using Excel daily. Taking an Excel course applied to the needs of the Supply Chain will save you a great deal of time and effort, as you'll already be mastering the formulas and features required.
By the way, taking Supply Chain courses will enrich your CV and show commitment. It's always a plus to showcase up-to-date knowledge, and it could play in your favor if you're down to the last two candidates. It will also help you switch organizations and run for a higher position next time. Also, to become a Supply Chain Manager, you must embrace novelty. You may work in a completely different industry three years from now and speak a new language. Or you may know a couple more software programs. Or all three at once!
Whatever the case, you should make continuous learning part of your career plan. Keep an eye out for Supply Chain courses that delve into specific topics you need to improve on. Finally, if you're living and breathing the dream of becoming a Supply Chain Manager, if you can sketch a plan of action once you start in this role, and if you're up for some serious continuous learning, then the job is nearly already yours.
If you'd like to hear some more tips on How to Become Supply Chain Manager, I put together a video for you on the 6 pillars which, according to me, will lead you to success. If you're starting your career in Supply Chain, the article boosting your career in Supply Chain Special Students & New Graduates answers many questions I was asked, including which study path to take, questions around money expectations, and many more.
Founder of AbcSupplyChain | Supply Chain Expert | 15 years experience in 6 different countries –> Follow me on LinkedIn