SLOB inventory (Slow-moving and obsolete inventory) possibly already occupying a significant amount of space in your warehouse. The longer this unwanted inventory remains part of your stock, the more it can jeopardize your business. In this article, I will show you how to efficiently track and manage your SLOB inventory so that your supply chain can be as profitable and your business as sustainable as possible.
To fully enjoy this step-by-step tutorial to track and reduce your SLOB inventory, download my free Excel template below :

How to have a profitable supply chain ?
If you want to have a profitable supply chain and business, you must focus on these three pillars : Service, Costs and Inventory (cash). Before we start talking about inventory, make sure that you have checked my article Inventory Turnover ratio: Formulas & Calculation in Excel, which deals with inventory turnover ratio and how to manage and calculate this very important KPI.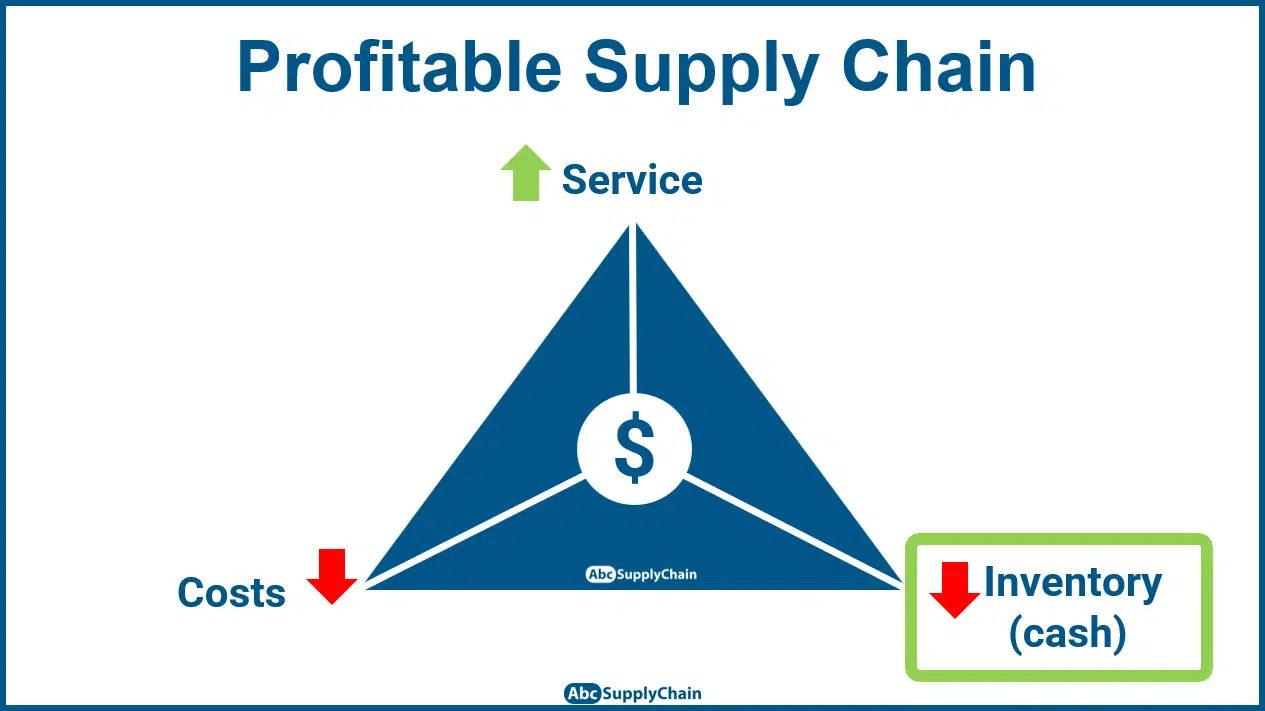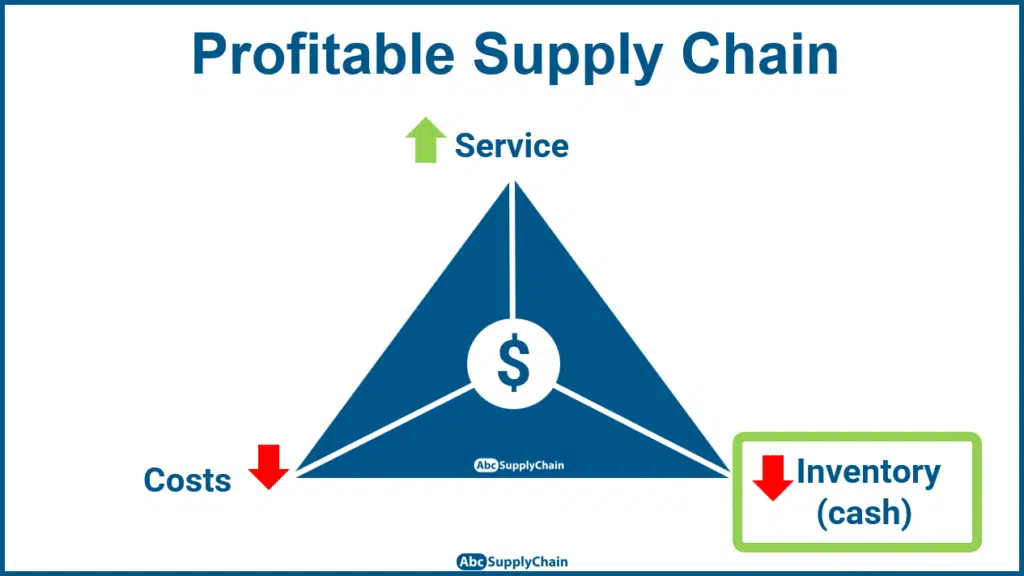 Today, however, we will focus specifically on the SLOB, the slow-moving and obsolete inventory.
Slow-moving and obsolete inventory (SLOB): what is it?
Let's start with the beginning : what is the difference between slow-moving and obsolete inventory?
Obsolete Inventory
Obsolete inventory refers to products that are not needed anymore, are out of date, or are old collections. They can be products that need to be destroyed because they cannot be sold any longer, donated, or that will need to be heavily discounted. Obsolete inventory significantly impacts a business's finances, as it loses 100% of its value or more (costs of destroying goods also have to be taken into account).
Slow-moving Inventory
Slow-moving inventory can also be called Excess Inventory, Aged Inventory, or Leftover Inventory. It refers to products that are needed (they are NOT old stock or previous collections) but are in excess. Having excess inventory means that you might need to pay extra for product storage or that you will soon need to discount your excess inventory to switch to new collections.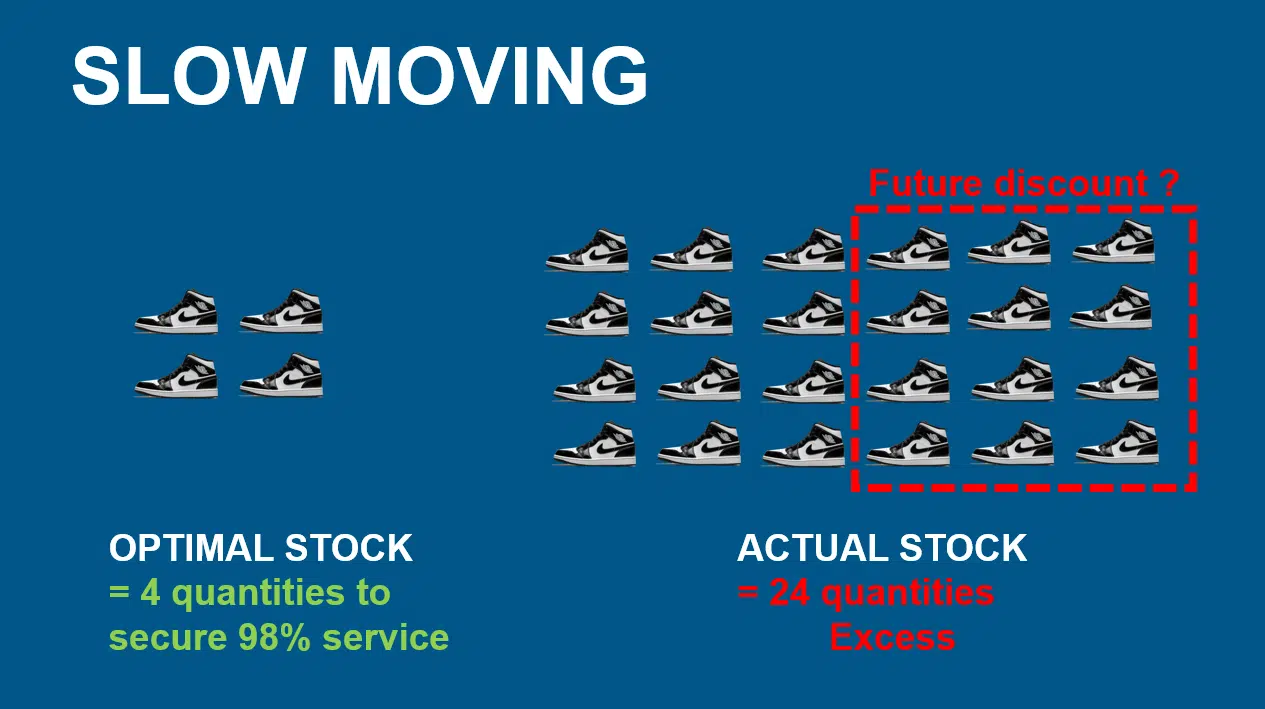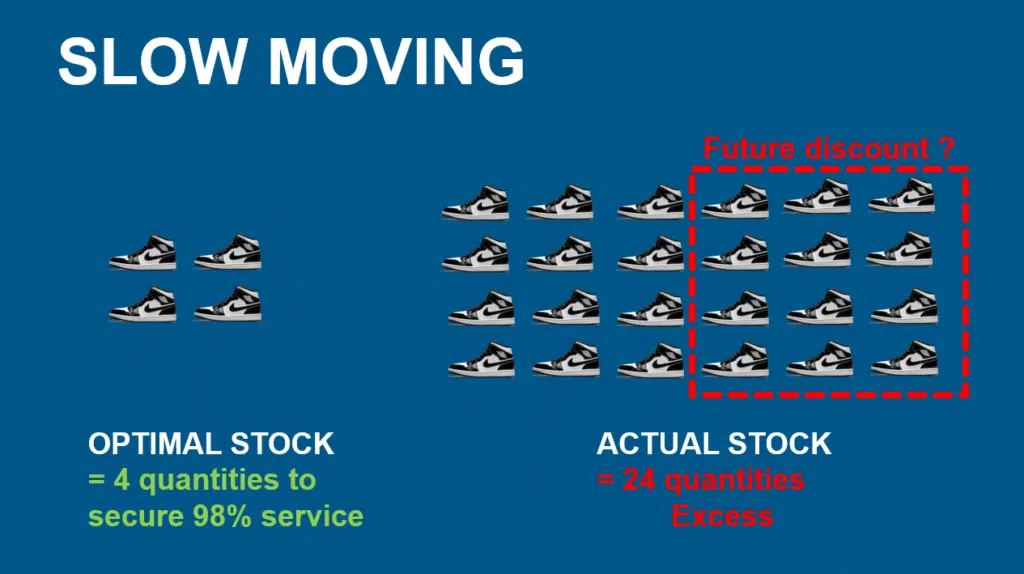 In this example, the optimal stock would be 4 quantities to secure 98% of the service. However, the current inventory is 24 quantities. The excess inventory is a problem and costs the business money.
Calculating your company's inventory turnover ratio is essential if you wish to eliminate your slow-moving and obsolete stock.
Then To ensure that you are ordering the optimal stock, check my articles EOQ Formula with examples in Excel and Safety Stock Formula & Calculation: 6 best methods.
Implementing the SLOB Inventory KPI in your company
Start by downloading my free Excel (if you haven't done so already) to implement the SLOB KPI now :

Calculating obsolete inventory
Step 1: Define which products are part of your active inventory and which goods are obsolete.
This first step can be done manually.
However, it can be done automatically in Excel by setting up dates to save time.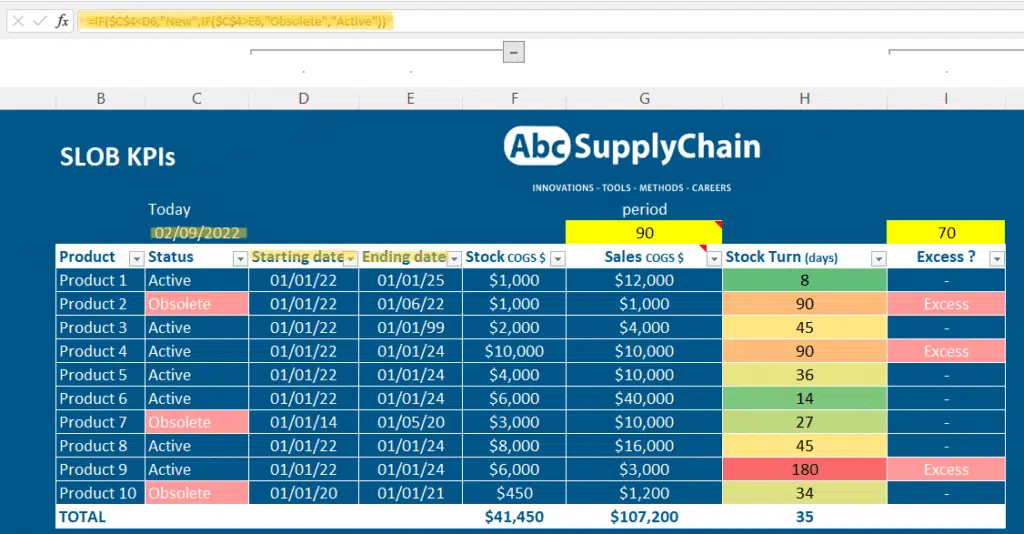 All goods are bound to specific dates, especially in the food or pharmaceutical industry. These dates will define whether your product becomes obsolete or not. By setting up today's date on the Excel spreadsheet and entering the start and end date of your products on each line to the table, you will automatically see if a product is active or obsolete thanks to the formula that I have set up. Anything in date will be considered 'New,' and anything out of that will be flagged and highlighted as 'obsolete.'
Step 2: Calculate the value of your obsolete inventory.
Column F shows you the value of your inventory and can be used to calculate the value of your obsolete stock. This calculation can be done manually by highlighting every obsolete inventory line and dividing it by the total inventory cost. You can also use a Pivot table :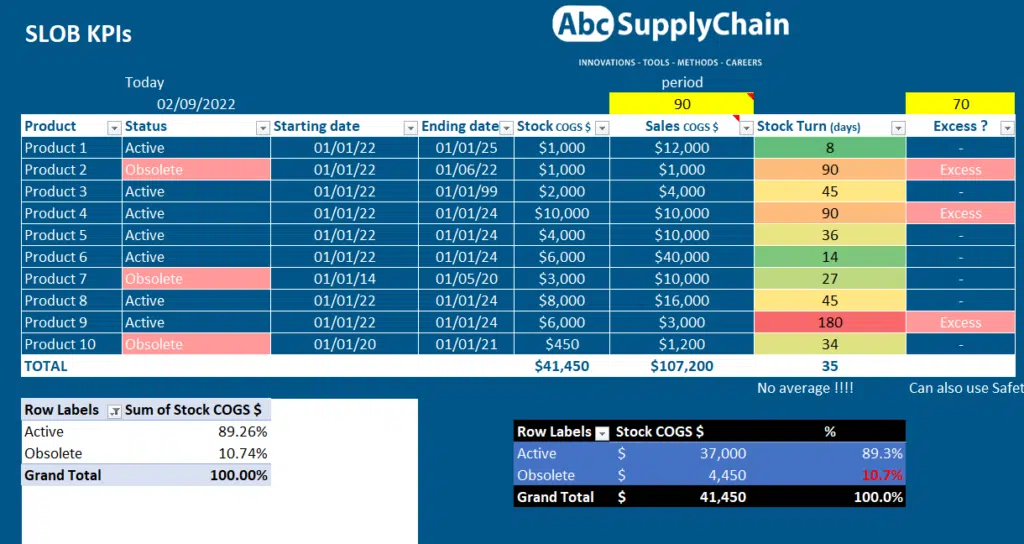 In this example, the total cost of the obsolete stock is $4.450, which represents 10.7% of the total inventory. You must track this particular KPI weekly to ensure it is reduced over time. Think about running promotions to see your SLOB level drop faster.
Calculating slow-moving inventory
To calculate the slow-moving inventory, we need to start by calculating the Inventory Turnover (or Stock Turn) in column H. You must know what the inventory turnover is for every single product by dividing the value of the stock by the sales, multiplied by the period (indicated in a number of days in column H).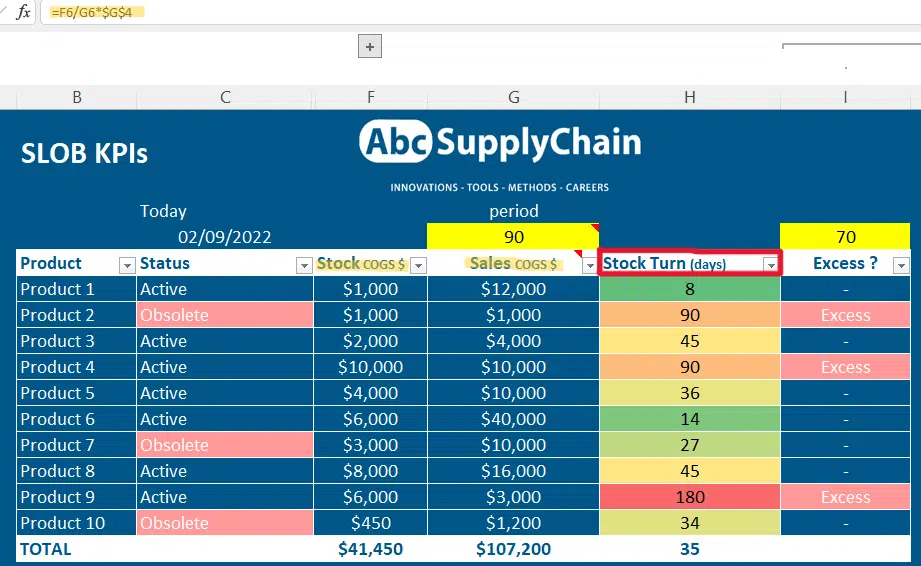 When you have run the formula, and you can see your results, you must decide what product you should focus on as a priority. Your slow movers are not necessarily obsolete: in this example, products 9 and 4 which are in excess, are 'active' products.
You can also modify the limit you consider the stock turn to be in excess. Let's say in our example that we want to set the limit a little higher than the overall stock turn of our products, which is 35 days. Then we can set the limit to 40 days, meaning that 5 of my products would now be considered slow-moving inventory.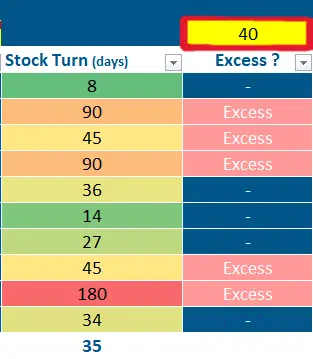 Of course, just adapt this number to your business. You can set a limit depending on your overall stock turn, average lead time, reorder point, and safety stock levels.

Finally, you can set several limits for different families of products if they vary a lot in terms of stock turn.
SLOB Inventory: Action Plan
If you would like to reduce your slow-moving and obsolete inventory, make sure that you follow those steps :
Download my free Excel SLOB calculation spreadsheet
Calculate your Obsolete Inventory
Calculate your Slow-moving Inventory
Repeat the SLOB calculation weekly (it will only take a few minutes thanks to my spreadsheet 😉 )
Share the results with all departments and get help wherever you can
Focus on your highest stock turn and inventory turnover value products
Become an Inventory Management Expert
If you want to go to the next level, join my 7-day workshop (free): How to reduce stockouts and overstocks.
7 days of free advice to optimize your inventory from scratch:
👉 Gain visibility into your inventory and service levels.
👉 Simplify, automate your inventory management
👉 Improve your performance and regain control of your time.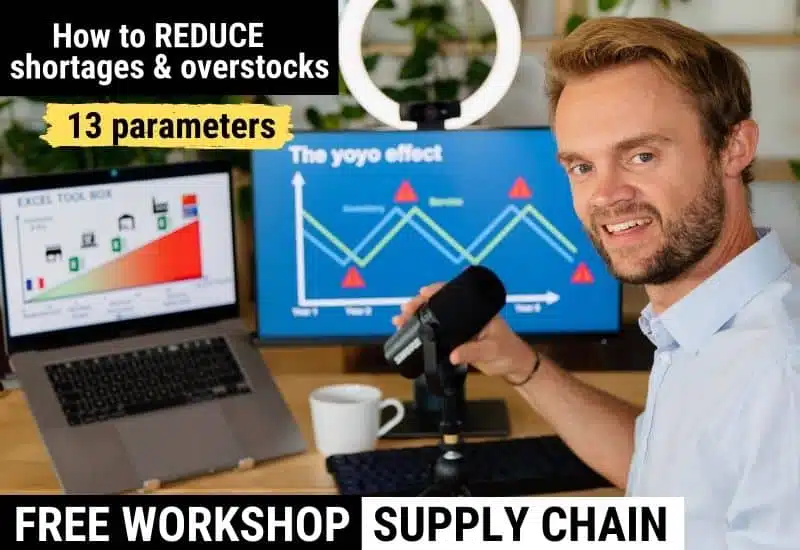 Founder of AbcSupplyChain | Supply Chain Expert | 15 years experience in 6 different countries –> Follow me on LinkedIn