Supply Chain KPIs, or Key Performance Indicators, are measures of performance over time for a specific objective. KPIs are used to unveil useful insights about the performance of your supply chain and allow you to make smart and fast decisions. But beware! You will find in this article the 11 mistakes to avoid when measuring the performance of your supply chain.
1) Having no KPI
You can't improve what you don't measure! Not having any Supply Chain KPIs is the number one mistake of many businesses, especially smaller ones. If you are in a small company, you may feel like you do not have enough KPIs or that you do not know where to start. If you need a little help, check out our articles on KPI service calculation & formulas and inventory turnover.

2) Having too many KPIs
KPI overload is another problem that bigger companies may be facing. Having hundreds of KPIs may have the reverse effect of what you are using them for. Let's be honest, most of them will be completely ignored as they will not have an important impact on the day-to-day management of your supply chain.
The key to choosing your KPIs is in the name itself. They are KEY Performance Indicators that should reflect important performance factors. Having too many is counterproductive.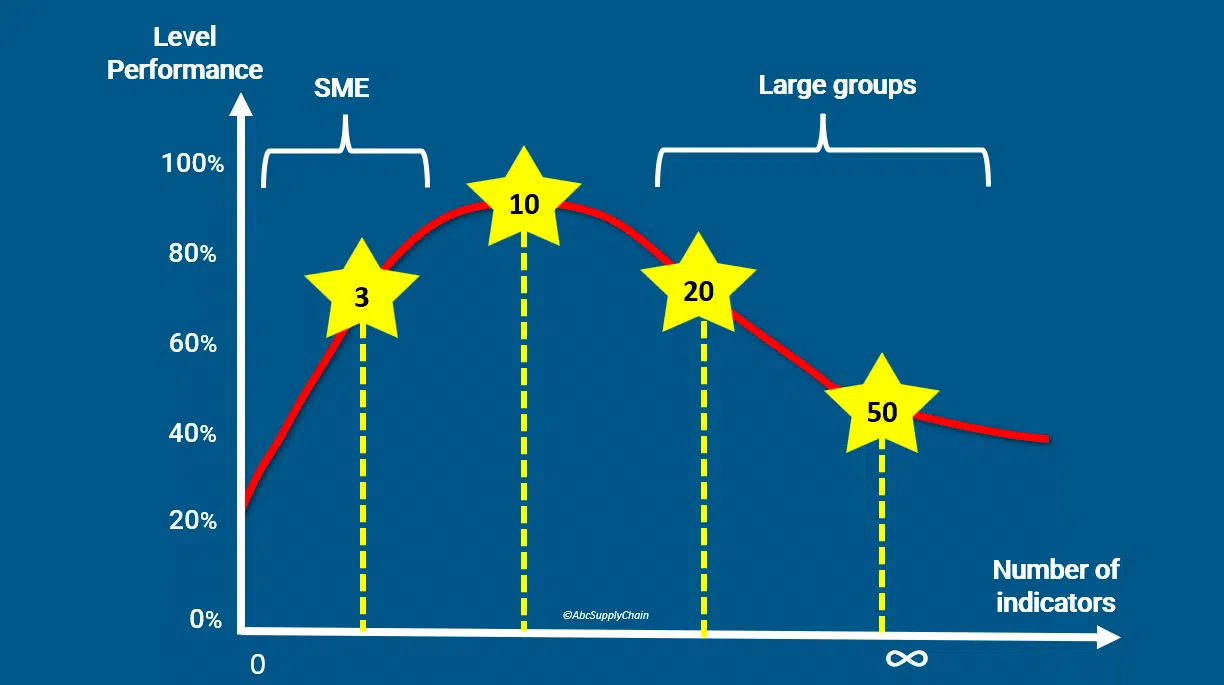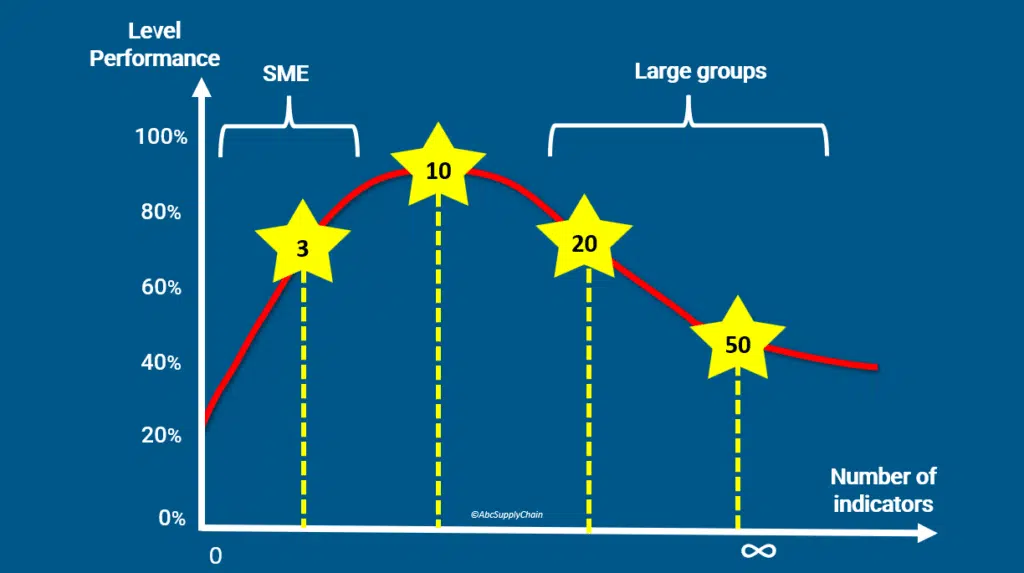 This graph illustrates how performance levels vary according to the number of KPIs adopted by a company. Whether you work for a large group or a smaller business, as a rule of thumb, try to have an average of 10 KPIs.
Remember: Less is more!
3) Changing KPIs too often
Let's say that you are changing departments or jobs. If you believe that the current KPIs are not perfect, that they do not give enough insights on the company's business, it is very tempting to change them. You may even be tempted to change your calculation several times. However, I would not recommend doing this, and the reason is simple.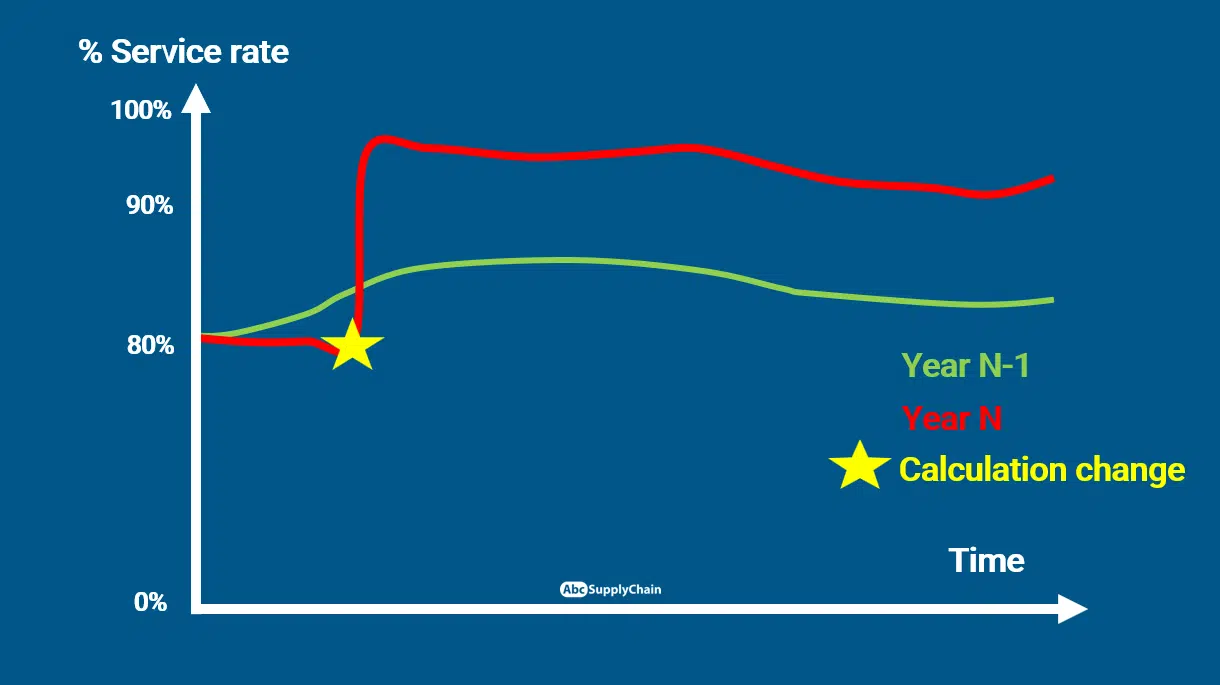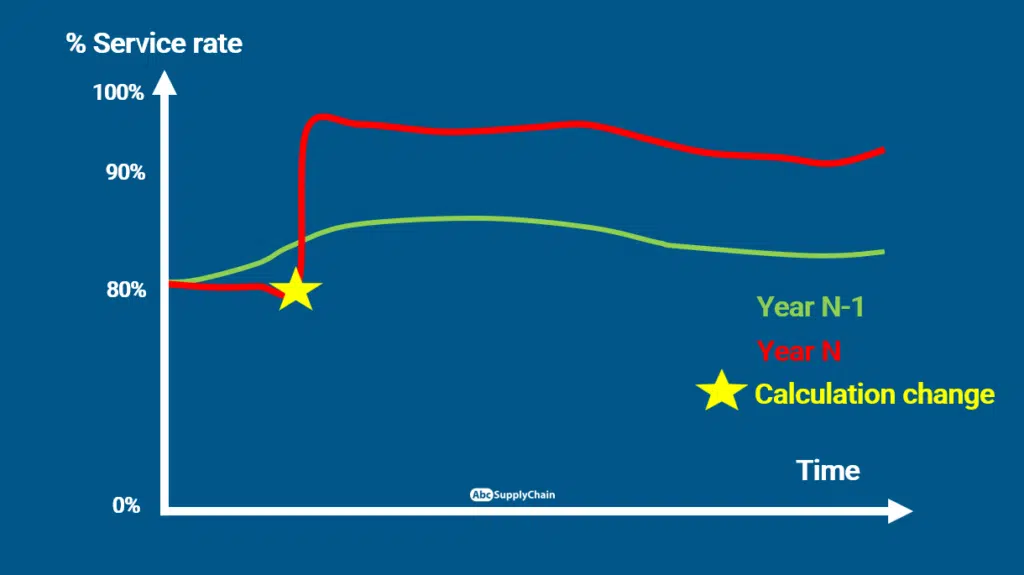 Let's look at the graph above: you decide to change your Service Rate calculation, and you instantly "improve" it, with a 15% increase. Of course, your performance didn't magically improve. The difference only comes from the calculation method that changed, and now it is impossible to compare your current KPI with last year's data: you are comparing apples with oranges.

If you really believe new KPIs are needed, keep calculating the old ones for sufficient time, to get a smooth transition.

My last advice would be to review your company KPIs every 6 months to a year.
4) Comparing too much with others
It is very easy to compare yourself with other successful large businesses such as Apple, Zara or Amazon, but the truth is, your businesses are just not the same. Unless you have the exact same business models as such companies, the same range of products, or the same logistics network, it is difficult to compare. Nevertheless, there is no harm in finding inspiration in such great models! After all, it will keep you motivated to continually improve your supply chain.

5) Not having a SMART goal
Your KPIs should represent and help you work towards a series of goals for your company. Those goals should follow the SMART model: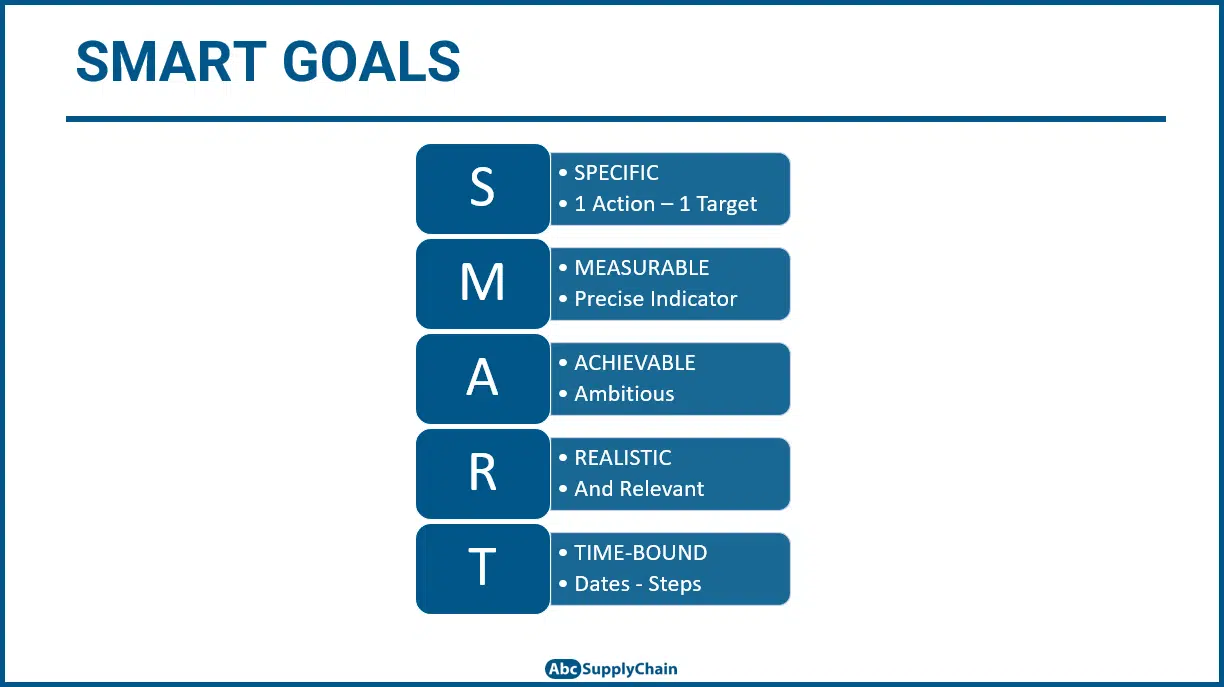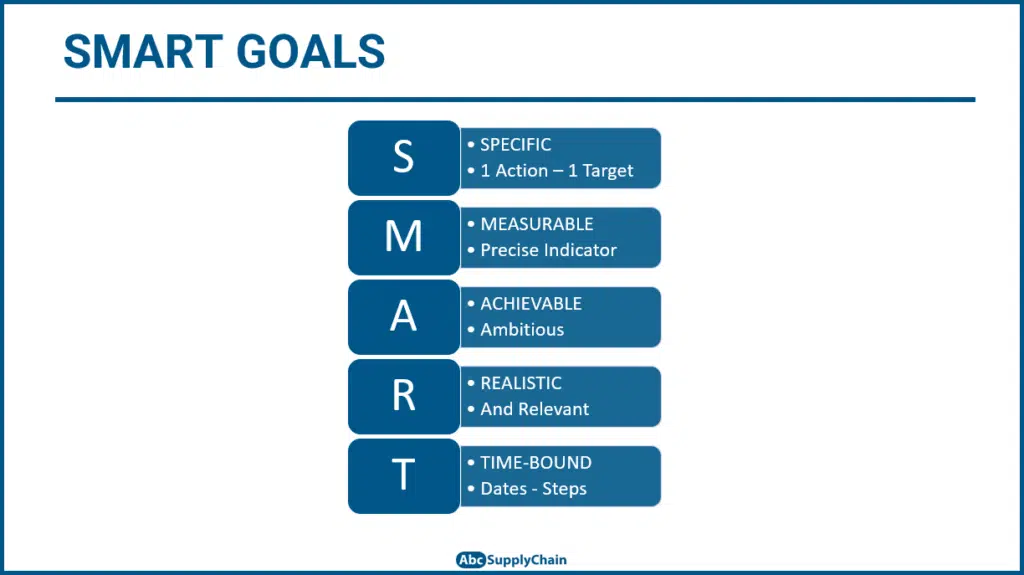 Setting smarter goals is achieved by having smarter metrics. Your KPIs should lead to goals that have to be Specific, Measurable, Achievable, Realistic, and Time-bound. Pairing SMART goals with SMART KPIs is a fantastic way to improve the performance of your supply chain in the long term.

6) Not sharing and validating your goals
There are different levels of KPIs that fall either into the category of Strategic KPIs, or Operational KPIs. The aim is to work toward the main goal, at the top of the pyramid, by tracking the different KPIs as illustrated here: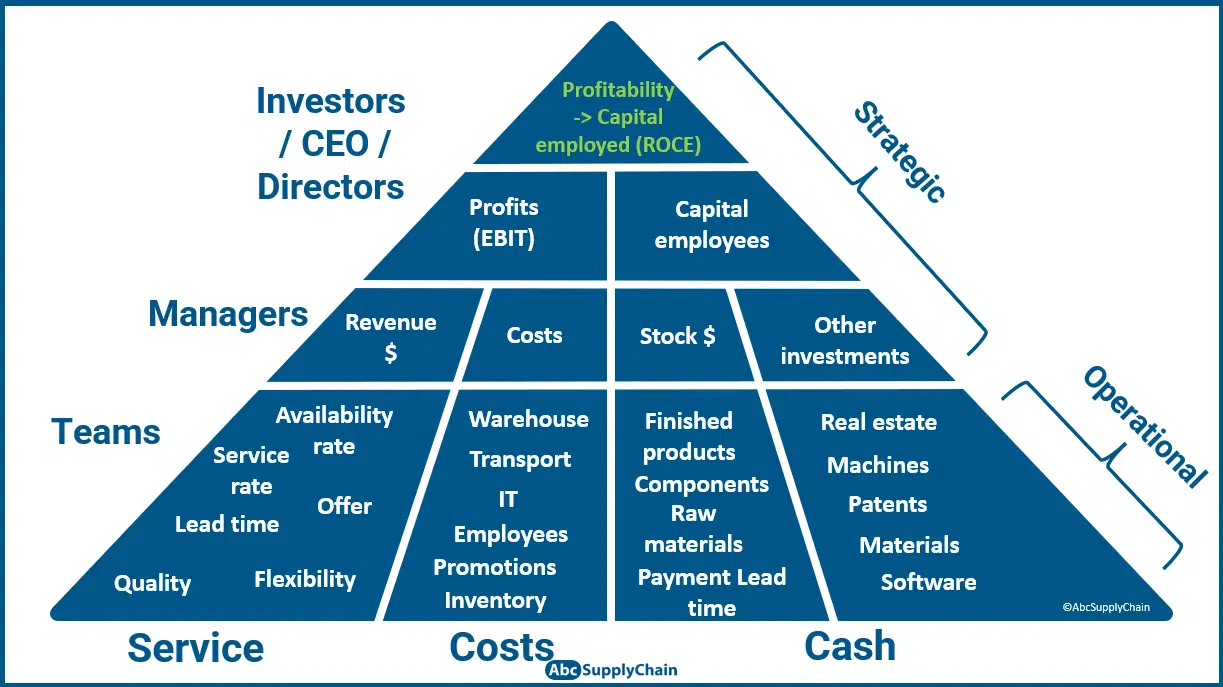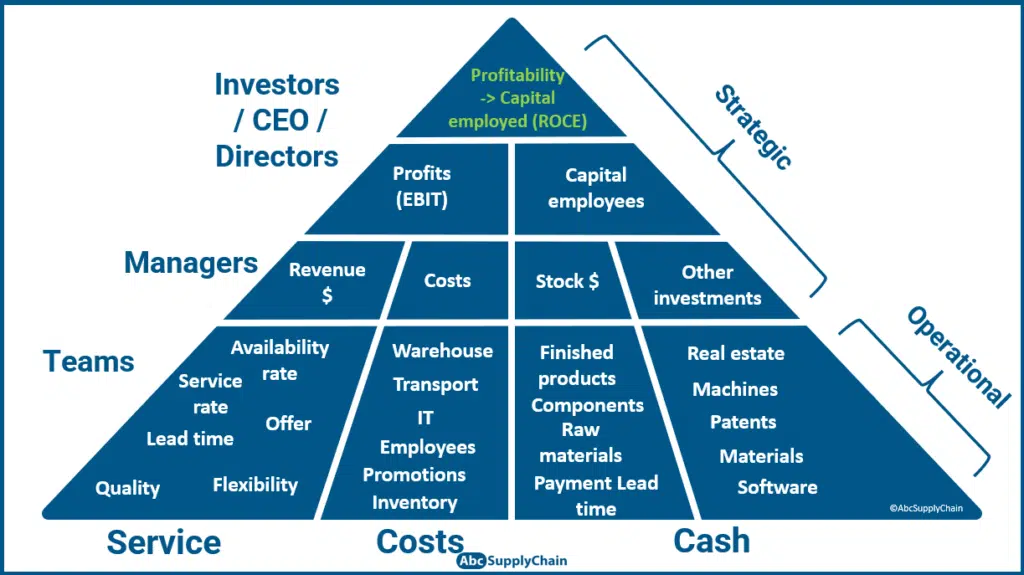 Most importantly, you must make sure that your managers know about the work that you are doing and approve the KPIs that you are tracking, but also that you are sharing your work with all the members of the company that will be involved in the performance of a particular metric.

7) Not having clear responsibilities per KPI
As previously mentioned, it is important to validate your KPIs with your managers and directors, it is also important to make sure that each team has the responsibility of clear set KPIs.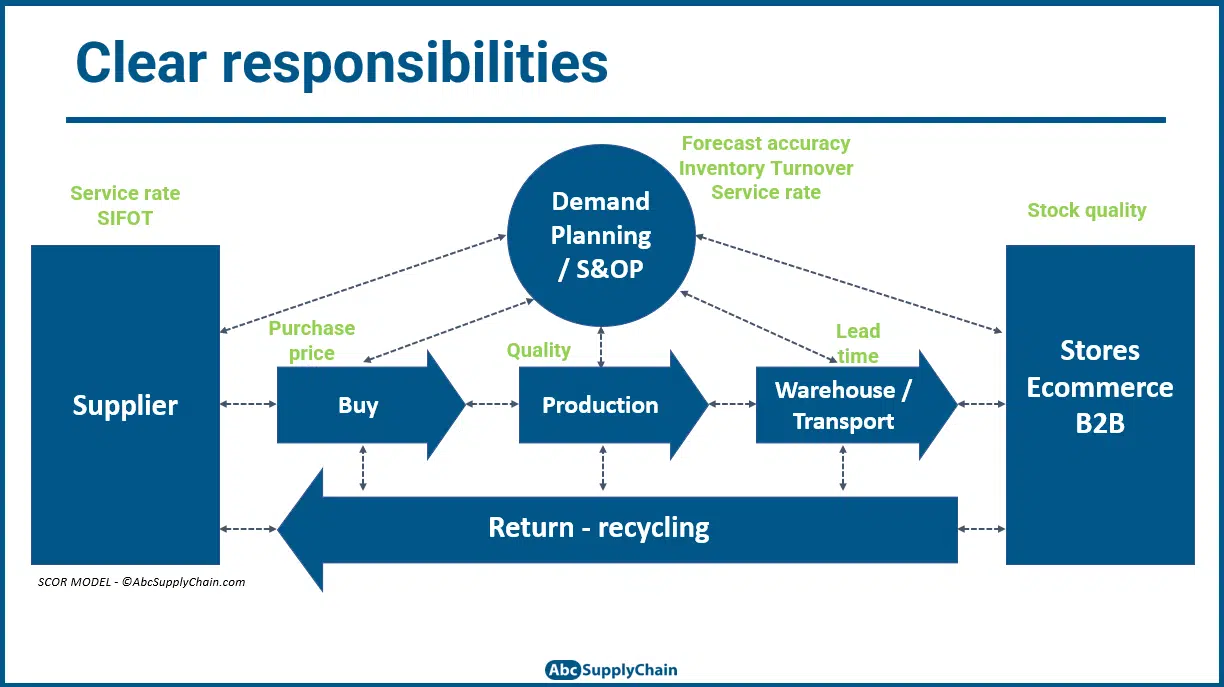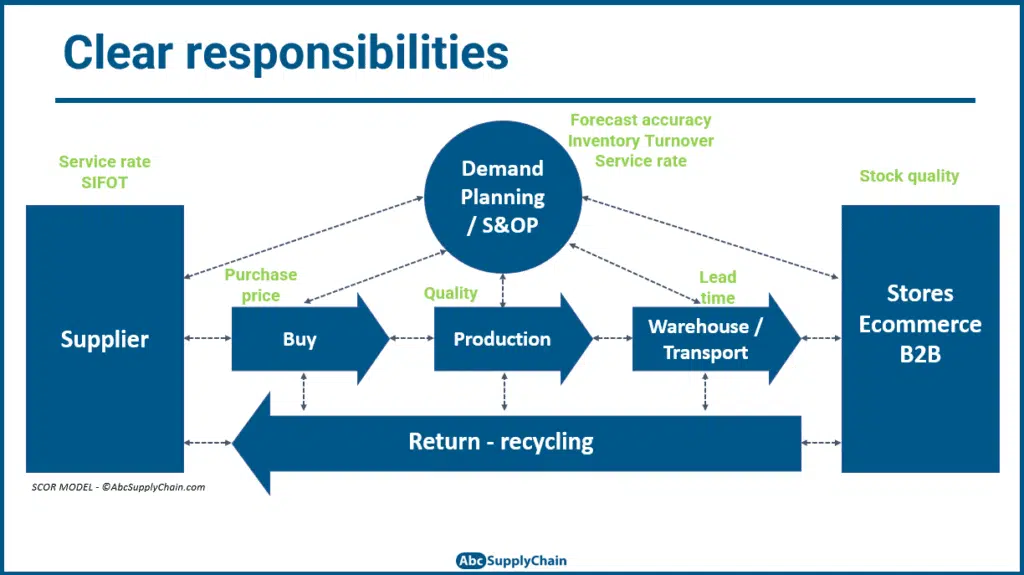 For example, inventory accuracy is the responsibility of the store teams. Picking lead time is the responsibility of the warehouse, and the upstream Service Rate (SIFOT) must be measured and improved by the supplier. Having clear, distinct roles and responsibilities, that are approved by each team, is important and should not be neglected.

8) Neglecting data quality
When measuring your Supply chain performance, you constantly need to extract data from different databases and Software.
A common pitfall is to underestimate the importance of data quality. Working with bad entry data is pointless: no magic formula or algorithm can reverse it. And you will be measuring something wrong.
You need to identify good sources of data. I always recommend working hand in hand with IT. This way, they will know your needs better and you will understand your company's data management (governance, architecture, databases, master data etc.)
Then, you need to collect it and transform it into the right format.
Finally, you will have to identify:
Missing data: data that should be there, but isn't
Data errors: data that should not be there
Outliers: extreme values that are not representative of what you are measuring.
This is why you need to become skilled in Data cleansing and at designing simple but effective data models. Once you set up a good data structure for your reports, you are sure to move in the right direction.

9) Spending too much time making beautiful reports
Although at AbcSupplyChain, we are all about creating beautiful, clear, and interesting reports, it is sometimes better to have a reliable and simple table that has exactly what you need on it to do the job. There is a fine line between very fancy and too complicated. It is sometimes a good idea to bet on a good old-fashioned Excel spreadsheet than trying to create over-complicated dashboards.
If you would like the WOW factor of a beautiful, clear, and precise dashboard without the hassle of having to design it yourself, you can get exactly that when you join our SCM Analytics training program.

10) Calculating your KPIs manually
If you spend more time calculating your indicators manually than actually analyzing data, then you are not being effective enough and you must make some changes. Your focus should be on making decisions, rather than wasting time updating Excel spreadsheets and endlessly repeating tasks.
If you work on Excel, you should learn to use the full power of Power Query and Power Pivot to create even lighter, more powerful, and automatic dashboards. It will simplify the process of importing data from different source files and perform powerful data analysis.
11) Staying too focused on your Supply Chain KPIs
I cannot stress enough the importance of going out to see your customers or suppliers on a weekly basis, and understanding what is happening for them, rather than relying too much on your dashboard and forgetting how to be in touch with reality. You may have a great IT report with a 98% availability rate, but that does not mean that there are no stock issues in the shops. This is especially true for managers, as you may 'forget' the reality of what is happening on the field as you are over-focused on your dashboards and KPIs.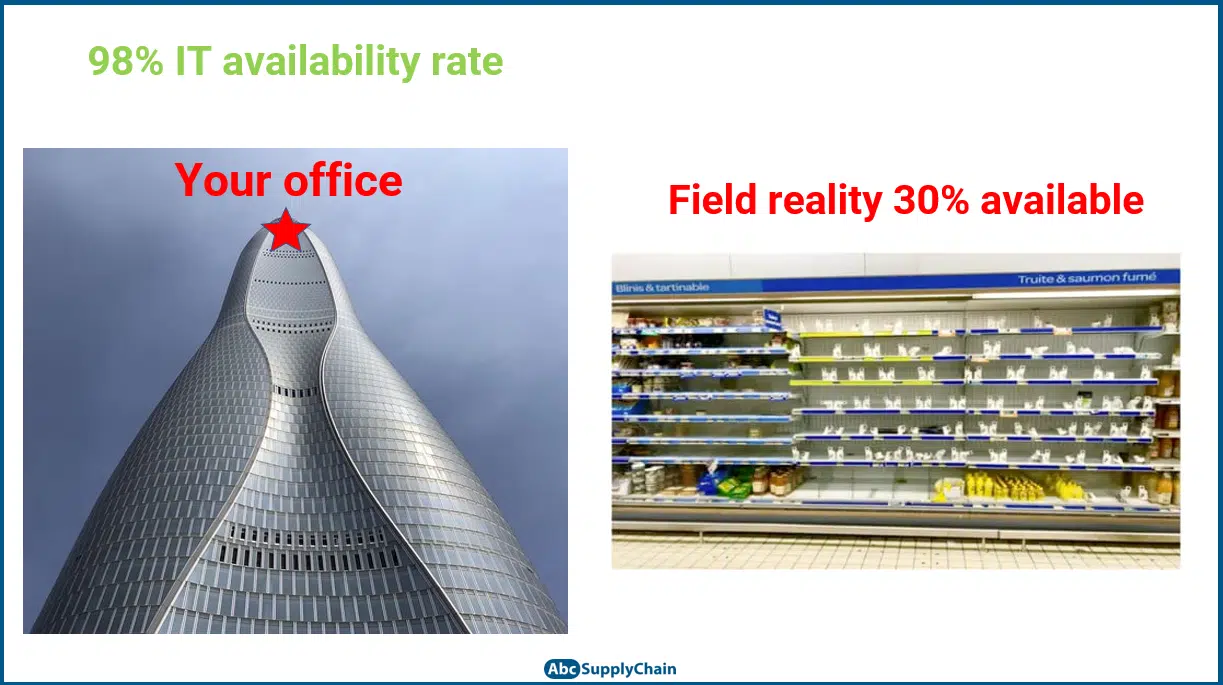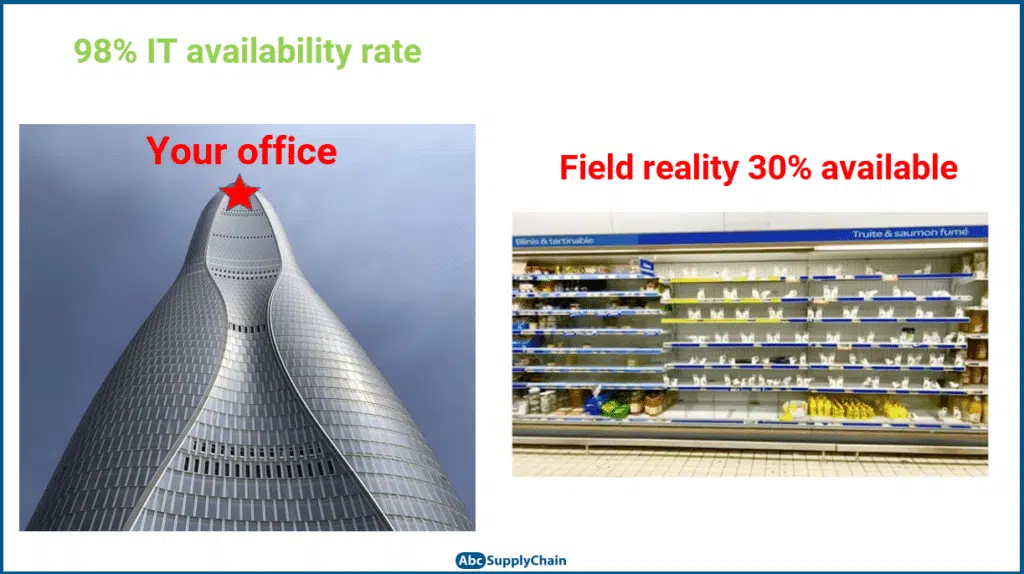 Measuring the performance of your Supply chain
If you would like to learn how to track and boost the performance of all your supply chain simply and automatically, if you are interested in finally mastering the essential indicators for your supply chain in less than 15 hours, or if you feel like you are working extra hard without lasting results, then join SCM Analytics, an efficient training program now available in English.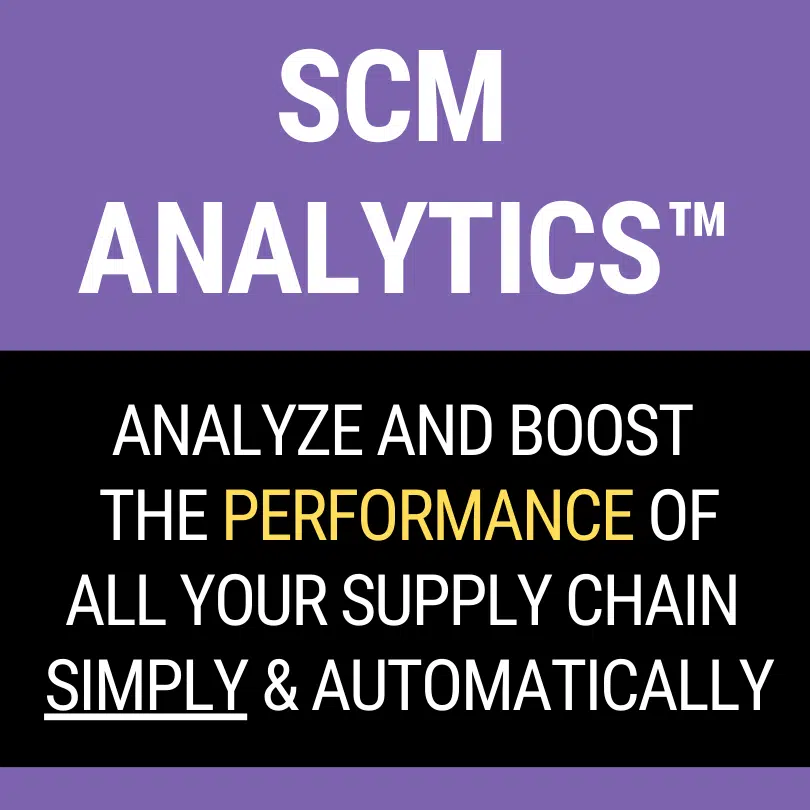 Founder of AbcSupplyChain | Supply Chain Expert | 15 years experience in 6 different countries –> Follow me on LinkedIn