For some time now, Supply Chain training and e-learning have been on the rise. Simple to use, economical, and created by leading universities or supply chain specialists, MOOCs (Massive Open Online Course) dedicated to logistics and supply chain are becoming more and more attractive. The possibility of developing certified skills from home and in parallel with employment or studies makes it possible to develop one's knowledge effectively. Here is an overview of the best course platforms offering online Supply Chain courses.
Online course Supply Chain – Logistics edX
edX is an online learning platform that hosts and makes available university-level online courses from around the world, particularly in Supply Chain. It is a non-profit and the platform uses open-source software.
edX was founded by the Massachusetts Institute of Technology (MIT) and Harvard University in May 2012. In 2014, about 50 schools, associations, and international organizations are offering or planning to offer courses on edX. By July 2014, it had more than 2.5 million users attending more than 200 online courses.
The particularity of the platform is that MIT courses have been developed to be free and accessible to all. For 0$, you can, therefore, benefit from the expertise of Supply Chain professionals from the most renowned institutions. You just need to pay to have the official certifcation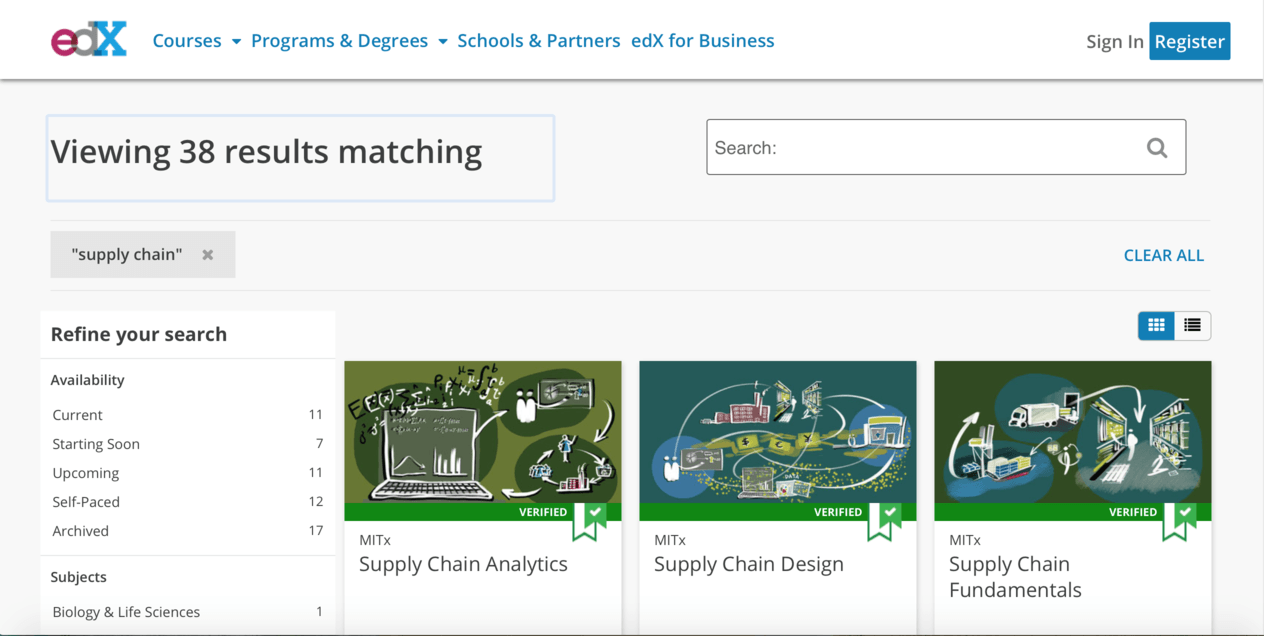 Logistics Training / Supply Chain Content: If you are not afraid of English, this is undoubtedly the platform where you will find the best theoretical courses. The Supply Chain training courses available on the platform have mostly been created by MIT and are internationally recognized.
The supply chain course offer is limited but relevant. However, there are no courses in logistics or stock management. These criteria can be included in Supply Chain courses but no training is specifically dedicated to them.
Finally, the training remains very theoretical and will not necessarily allow you to manipulate software or Excels.
Prices: By unit, most of these courses have been created to be free. However, some courses are still subject to a fee, around 200$. Certification is often subject to a fee as well.
Certification: It exists and provides a real plus, but it is often subject to a fee, around 150-200$.
Notoriety: Strong
Languages: English
Advantages of supply chain training – edX logistics:
Theoretical training in Supply Chain by experts
Free MIT courses (paid certififcation)
International recognition
Disadvantages of supply chain training – edX logistics :
Complete but limited supply chain training offer
Few logistics courses
Paid certifications
Very theoretical & mathematical
Need to commit to 10/15 hours per week
Online course Supply chain – Logistics Udemy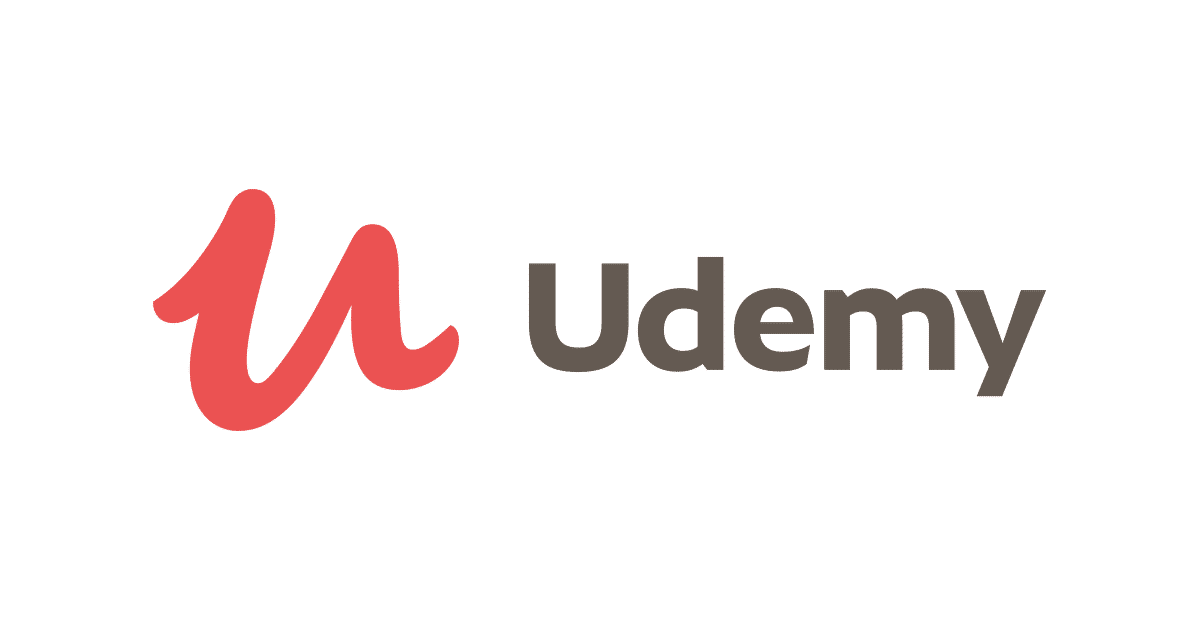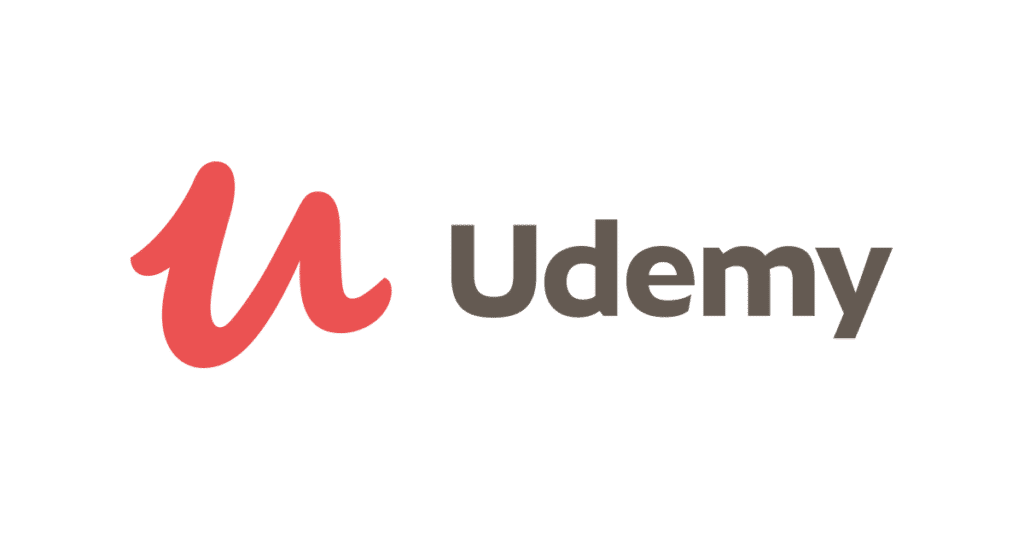 Founded in 2010, Udemy is one of the largest online course platforms with 80,000 courses on offer.  Udemy differs in that everyone can publish their course to reach thousands of students around the world.
This method allows you to have a large number of courses covering a wide range of subjects. Another particularity is that there is no subscription, the prices of the courses are per unit. Udemy, therefore, allows specialized trainers to teach to new students.
The themes are varied and include supply chain management, supply chain strategy, logistics, and stock management.
Even if you are looking for a very specific theme, whether in English or French and depending on the level, it is very likely that a supply chain training or distance logistics training meeting your needs will be present on the platform. However, the quality of the courses can vary greatly from one trainer to another. That is why opinions are very important for the platform, which does not want to create disappointments among students.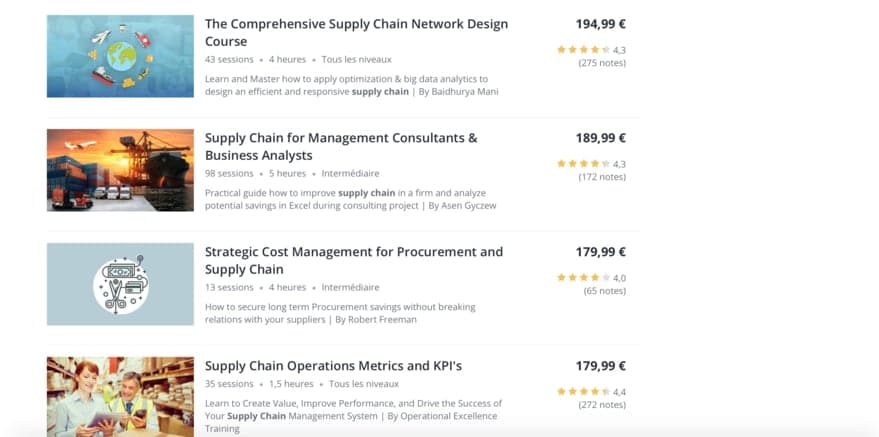 Logistics / Supply Chain Content: A wide range of more than a hundred theoretical and practical courses and training in supply and logistics, if you are looking to delve deeper into a specific theme, it is certainly here. Supply Chain and Logistics courses are mainly taught in English. The course offer is wide enough to start at any level of supply chain knowledge. Beginner or Expert, you will find the Supply Chain training you are looking for.
However, as on most platforms, the courses given are very theoretical and do not necessarily allow you to practice the manipulation and optimization of Excel files for example.
Prices: By unit, prices may vary from one formation to another. Moreover, a high price does not guarantee a better quality of training.
Certification: The platform offers a certification allowing to validate the acquired knowledge at the end of the courses.
Notoriety: Strong
Languages: English
Advantages of supply chain training – logistics Udemy:
Hundreds of courses and supply chain or distance logistics training courses
Opinion on training courses
Disadvantages of supply chain training – logistics Udemy :
The very uneven quality of courses due to the variety of speakers
Prices vary every day
Very theoretical
Online Course Supply Chain – Logistics Coursera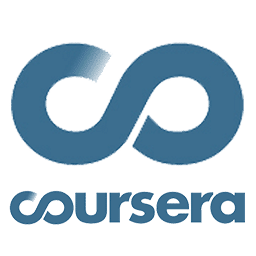 Coursera was founded in 2012 by two Stanford computer science professors and now offers nearly 2700 courses. Its development has been rapid and it is now becoming the world's leading MOOC platform.
It has partnerships with recognized Universities and Colleges such as the University of London, HEC or the Ecole Polytechnique that offer their MOOCs on the platform. If you want to follow an HEC distance learning course in Supply Chain Management, this is where it happens. The course will focus on quality rather than quantity.
Indeed, each course is taught by qualified instructors supported by videos, graded assignments, questionnaires, and discussion forums. However, these courses, like other distance supply chain training courses, do not have practical exercises on Excel, for example, which prevents data manipulation.
Courses generally last 4 to 6 weeks, are open to all and range from free to a few hundred euros (usually paid for the verified certificate). Coursera offers a series of more advanced courses called specializations. These specializations apply to Supply Chain and allow experienced people to deepen their knowledge of Supply Chain Management or Supply Chain Strategy theories.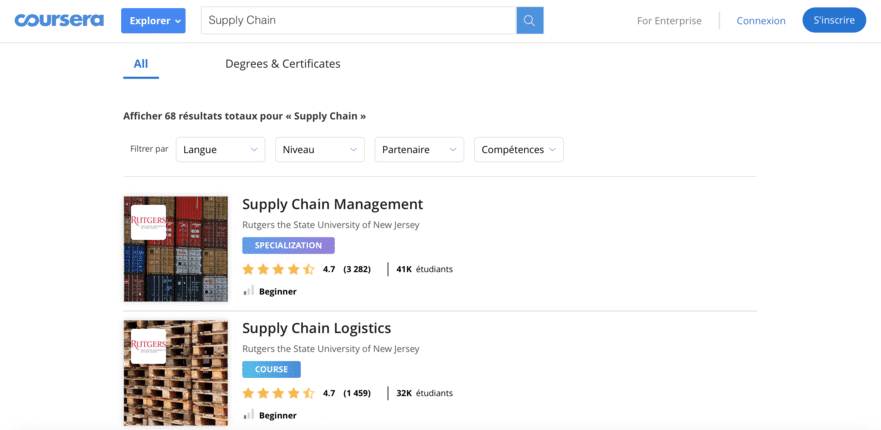 Logistics Content / Supply Chain: An abundant offer of distance learning in supply chain management and supply chain strategy is available on the platform. These sometimes have logistical aspects and are mostly in English. The latter are often very complete from a theoretical point of view.
However, as on most platforms, the courses given are very or even too theoretical and do not necessarily allow you to practice the manipulation and optimization of Excel files for example.
Prices: From 25€ per month, prices vary according to courses and specializations. It is also possible to take a single course.
Certification: At the end of each course, a certification is available to prove your skills to your next employers. The latter is not always included in the price of the training.
Notoriety: Strong
Languages: English
Advantages of supply chain training – logistics Coursera:
Partnerships with leading Business & engineering schools
Supply Chain training of excellent quality and very specialized
Recognized certificates and diplomas
Disadvantages of supply chain training – logistics Coursera :
Some training courses are really expensive
No distance learning in logistics
Very theoretical
Supply Chain online course comparison :
 Supply Chain / Logistics content
   More than 100 courses
More than 50 professional courses
Targeted courses SCM – MOOCs from MIT
Price
Unit
Unit or as of 30$/month
Unit or free
Certification
Yes
Yes
yes
Notoriety

Strong international notoriety

A lot of reviews

Strong international notoriety

Strong partnerships with universities

 Co-founded by the MIT and Harvard
Languages
English
English
English
Disadvantages
The very uneven quality of teachers
Theoretical courses
Theoretical training with a strong mathematical focus
Our advice to select the right SCM online course :
If you 're looking for a theoretical Supply Chain Course:
If you're looking for a world-known theoretical supply chain course, we recommend you the MIT EDX one 
If you're looking for more practical training with business cases & excel templates :
The handling and optimization of Excel, for example, is always fundamental and often saves the company a crucial time.
That is what we are bringing in our different supply chain courses because they are specially designed to share concrete tools that can be used daily to optimize your Supply Chain quickly.
Go further
Check our best Supply Chain Excel & Tools here
Check our Logistics & Supply Chain Courses here 
Founder of AbcSupplyChain | Supply Chain Expert | 15 years experience in 6 different countries –> Follow me on LinkedIn